Pjcounts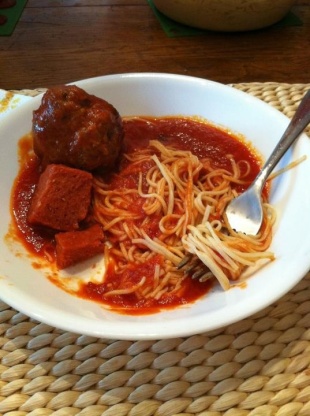 I like this recipe because it always turns out and it works real good with my Pasta Maker. You can also roll it out with a rolling pin.

This was my first experience with homemade pasta and a pasta recipe. I followed the recipe to the letter and rolled it with a rolling pin and then through the machine and then through the fetacini cutter. It was delicious; a little wider than it should have been, but no one in my family cared. Next time, we'll just take more care with the rolling through. Great recipe! Thanks so much.
Beat the eggs in a medium size bowl with a fork.
Mix in the salt.
Add the pasta flour a little at a time, mixing well.
Knead the dough 5 minutes.
Wrap in wax paper and let it rest for 12 minutes.
Then pass through your dough through a pasta machine or gently roll dough out as thin as you can on a floured surface with a rolling pin.
Cut into size of noodles required.
If making Ravioli brush edges with egg white to seal.
Amount given for ravioli.