Prep 35 mins
Cook 55 mins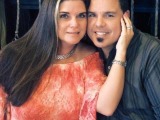 I saw this on the Food Network prepared by Giada De Laurentiis.
Directions
Preheat the oven to 350 degrees F.
Line a heavy large baking sheet with parchment paper.
Whisk the flour and baking powder in a medium bowl to blend.
Using an electric mixer, beat the sugar, butter, lemon zest, and salt in a large bowl to blend.
Beat in the eggs 1 at a time.
Add the flour mixture and beat just until blended.
Stir in the pistachios and cranberries.
Form the dough into a 13-inch long, 3-inch wide log on the prepared baking sheet.
Bake until light golden, about 40 minutes. Cool for 30 minutes.
Place the log on the cutting board.
Using a sharp serrated knife, cut the log on a diagonal into 1/2 to 3/4-inch-thick slices.
Arrange the biscotti, cut side down, on the baking sheet.
Bake the biscotti until they are pale golden, about 15 minutes.
Transfer the biscotti to a rack and cool completely.
Stir the chocolate in a bowl set over a saucepan of simmering water until the chocolate melts.
Dip half of the biscotti into the melted chocolate.
Gently shake off the excess chocolate. Place the biscotti on the baking sheet for the chocolate to set.
Sprinkle with the sugar crystals. Refrigerate until the chocolate is firm, about 35 minutes.
The biscotti can be made ahead.
Store them in an airtight container up to 4 days, or wrap them in foil and freeze in resealable plastic bags up to 3 weeks.
**Cooking time does not include the 30 minutes of cooling time before dipping in white chocolate or the 35 minutes refrigeration time after the biscotti is dipped in the chocolate.
Most Helpful
These are very good. I find that the extra colored sugar is unnecessary as it is plenty sweet already. I have sometimes mixed the white chocolate chips into the dough instead of dipping. If you do this, be aware they burn easily and must be watched closely.

This is the best biscotti you will every eat. After making it numerous times, I think i have mastered the recipe. Here are my tips: Make sure nuts and cranberries are cut in small pieces. After mixing dough, chill for about 1/2 hour. Form dough into two logs and bake for approxiamtely 25 minutes. Cool 5 minutes, then slice. Comes out perfectly every time. Also, as a southerner we prefer this with nuts.
Great classic biscotti! I had to make a second batch right away as the first went so quickly. The cranberries and pistacios in this recipe compliment each other nicely both in flavor and presentation. I used salted butter and reduced the amount of salt to 1/4 tsp. I also omitted the chocolate. These biscotti can stand alone.