Hawaiian Ham & Swiss Wraps
Parsley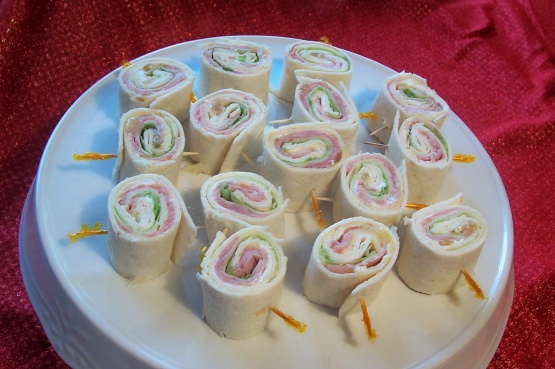 This sweet, cool wrap sandwich is great for the warm weather; for picnics, lunches, quick dinners. Can also be wrapped and cut into thirds for a small appetizer serving for a shower or party. Also kid friendly for a snack or lunch.

Top Review by Bliss
I had just "plain old" tortillas, and used those. I tasted the pineapple preserves prior to using them, and wasn't a fan. I had some cream cheese with chives and used those. I loved this. Spread on a warm tortillas, the cream cheese and pineapple made a wonderful sauce. I had romaine and chopped that up rather than the lettuce.

I've had this two nites now, and enjoyed it both nites.
Combine cream cheese and pineapple preserves; spread about 1-2 ounces on each tortilla.
You can also spread tortilla with cream cheese and gently pour on the preserves.
Place 2 oz ham and 2 oz cheese on a wrap.
Top with shredded lettuce and roll to tightness.
Cut wrap into thirds, if serving as a finger sandwich or as an appetizer.