Bergy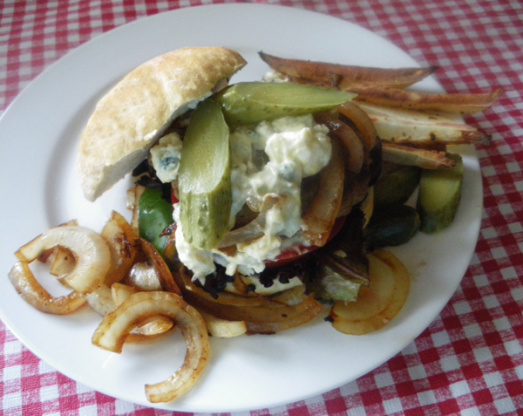 I love this burger, it is an adaptation of the burger served at Chili's. Blue cheese dressing, and fried onion strips make this a real treat.

Love this burger. Very simple to make and as long as it's fried correctly, it is juicy and full of flavor.
680.38

g ground sirloin

40

black peppercorns, crushed*

73.94

ml Dijon mustard (Maille or Grey Poupon)

14.79

ml cajun seasoning

118.29

ml extra chunky bleu cheese salad dressing

236.59

ml fried onions, strips
salt and pepper
Mix salt and pepper with the ground meat and make 4 patties.
Mix Mustard and Cajun seasoning(Cayenne pepper too if you want, or chipotle powder, or both hehe).
Brush the mustard mixture on the patties to cover thickly and completely. You don't need to use all the mustard, just make sure they are coated.
Roll them in the cracked peppers until fully coated.
Grill the burgers to desired doneness.
Serve on a Grilled bun with lots of blue cheese dressing and onion strips on the bottom half underneath the burger.
On top goes more blue cheese dressing, lettuce, tomatoes and pickles. MMMM, enjoy.
*you can crush them under a heavy skillet. Don't use ground pepper in this recipe.