Grilled Bacon Wrapped Shrimp
eabeler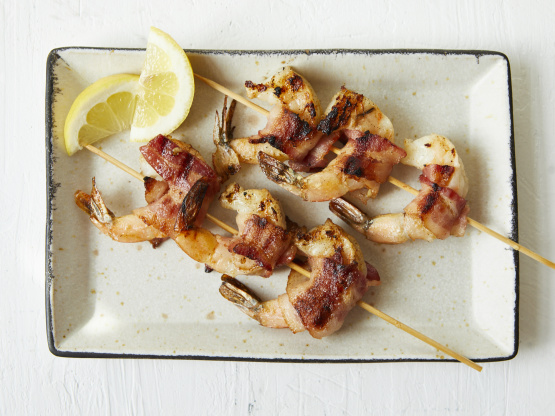 Jumbo shrimp or prawns wrapped in bacon with zesty spices! This is a very good meal or appetizer.

We will be having this again, ... & again...! Delicious! I pre cooked the bacon as stated, but it still didn't get brown enough before the shrimp were done, despite my 500 degree grill. The flavor was wonderful though! We ate it as a meal with rice & green beans. This one's a keeper! Thank you
Combine butter and spices, add shrimp, stirring to coat the shrimp. Let shrimp marinate for 1 to 2 hours.
Slice bacon in half and cook over medium high heat to render out some fat, keeping bacon flexible. Drain the bacon and pat grease out with a paper towel.
Wrap each piece of shrimp with a piece of bacon. Slide on to skewers.
Grill on a hot grill until shrimp are opaque. Use remainder of marinade when turning the shrimp.