jenne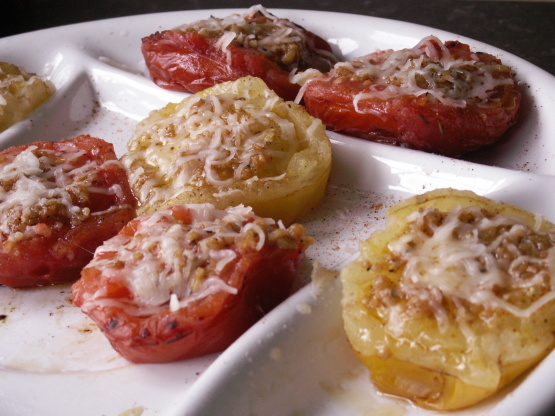 From How To Grill - tastes just like a bite of fresh tomato sauce. The picture of this is what sold me the cookbook! It's now one of my summertime BBQ favorites. We've been known to end up eating the whole recipe with just the two of us!
Cut the tomatoes in half crosswise.
Season with salt and pepper.
Peel and crush the garlic.
Heat the oil in a small frying pan over medium heat.
Add the garlic and cook until just starting to turn golden brown (1 to 2 minutes).
Pour garlic and oil into a heatproof bowl.
Set up the grill and preheat to high.
When grill is ready, brush some oil on the grill grate.
Place tomatoes cut side down on the hot grate and grill until nicely browned (3-5 minutes).
Rotate 45 degrees after 2 minutes to create the crosshatch marks on tomatoes.
Turn the tomatoes with tongs so they sit with the cut side facing up.
Spoon the fried garlic into the tomatoes.
Grill until the bottoms are nicely browned (3-5 minutes).
Transfer to a serving plate, grate the cheese over the tomatoes, and sprinkle with thyme.
Serve immediately.