Terri F.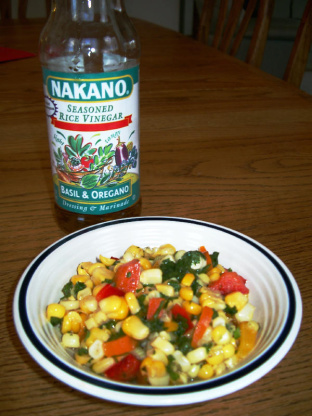 This salad is fresh, light, and goes with everything. Be sure to use fresh sweet corn when making it, the sweeter the better. If you make it the day before serving, flavors will have a chance to blend. This keeps for several days in the fridge. Cook time is minimum chill time.

This has a nice clean taste and very easy to make. It was a bit on the bland side for me. This could be me though. I used garden corn that I had stored in the freezer from last season. Since the corn was blanched before freezing, I did not cook it again.
Remove husk from corn and steam in salted water until tender.
Drain corn and cut from cob.
In a large bowl, mix corn, red and orange peppers, scallions, cilantro, and parsley.
Add vinegar, olive oil, and salt and pepper, and mix well.
Chill several hours or overnight.