French Vanilla Coffee Mousse
Jubes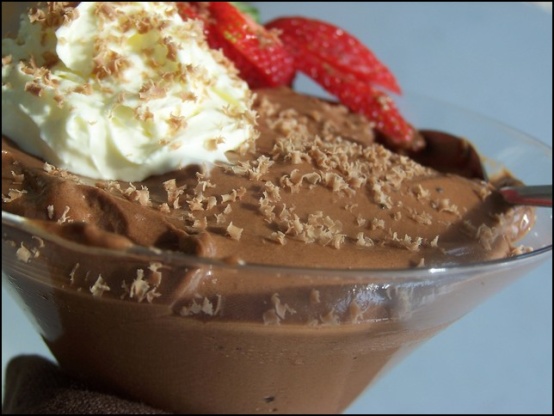 From Southern Lady Magazine Jan/Feb 2008. Preparation time does not include chilling. Original recipe said it made 6 servings, but it is so rich reviewers have suggested that it makes more servings. I changed to say 10 servings

This is an unbelievably scrumptuous dessert! And it's simple to make. I don't think even I could mess it up! And it looks so impressive, like a professional prepared it. The recipe made more than 6 servings for me though. In fact, I think I ended up filling 9 dessert cups, and they were pretty good size portions, too. But it could easily be stretched out to 10 servings. For me, it took about 4 hours of chilling time before it was thick enough to scoop into dessert cups. I don't know if that's normal (or maybe I did something wrong that increased the necessary chilling time??). But others should keep that in mind, because it definitely cannot be made late in the afternoon with the idea of serving it for dessert in less than an hour or so. It needs adequate chilling time to thicken up enough to serve. But I highly recommend this for special occasions, romantic dinner dates, Valentine's Day...or any day! Try it...you won't be disappointed.
In a medium saucepan, combine 1 cup cream and coffee. Bring to a boil over medium-high heat; remove from heat.
In a medium bowl, combine chocolates. Through a fine-mesh strainer, strain cream mixture over chocolates; stir until chocolates are melted.
In a medium bowl, beat remaining 2 cups cream and vanilla at high speed with an electric mixer until soft peaks form. Gradually add sugar, beating until stiff peaks form. Fold whipped cream mixture into chocolate mixture. Cover and chill. Chilling can take up to 4 hours.