I'mPat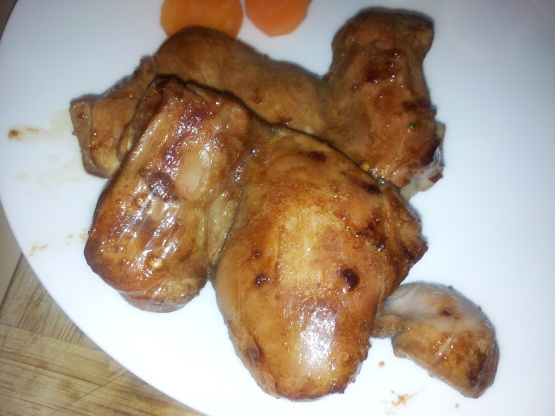 Easy-to-make chicken thighs are a favorite for both kids and adults. They are good served with rice and broccoli.
I thought I had already written a review, but apparently I didn't.
This recipe was a wonderful surprise! I had my nieces and one of my nephews over (7,8,10) and they are the pickiest eaters ever-and they don't like the same things. I was SHOCKED when all three of them devoured these, even with the little bit of spice on it. I made them with chicken drumsticks, skin on, so the kids could pull it off and take down the spice a notch if they wanted. I made 10 total, in addition to a pizza and some roasted pork (again- pickiest kids ever- I always have to have more than 1 thing or someone will refuse to eat), and everything else was more or less untouched. More left overs for me and the hubby, but still! We also thought this recipe was great for us.

Forced alterations, which turned out great:
I didn't make gravy, and I substituted all spice for ginger as I discovered I was out mid-cooking.
Remove skin from chicken thighs and discard (if using drumsticks I leave skin on).
Place chicken in baking pan.
Grate lime rind over chicken.
Cut lime in half and squeeze juice over chicken.
Add soy sauce, garlic, red pepper flakes, ginger, olive oil and cinnamon.
Turn chicken to coat both sides with marinade.
Refrigerate for one hour.
Preheat oven to 375°F.
Place chicken in oven and bake for 30-45 minutes.
To serve with gravy.
Combine 1 T cornstarch with 1/2 cup water.
Add to pan and stir to mix well.
Heat on stove over med heat until mixture thickens.