alligirl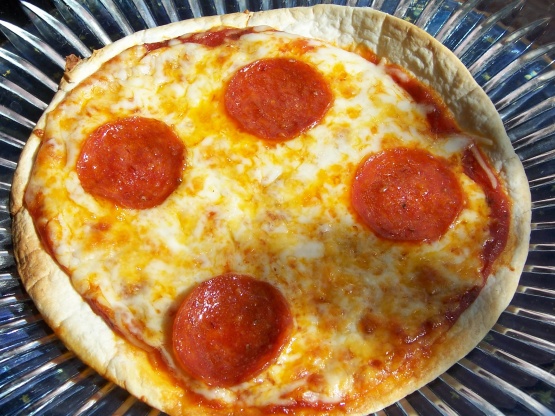 This is one of my favorite recipes to make, i like this one because it healthy and really quick to make, i got this from one of my friends and she said it would be yummy so i did it and its really good.... hope you all like it.

The soggy center can being eliminated by brushing the bottom of the flour tortilla with oil first, then turn over and top. Cook at 450 deg. for 5 mins. on a wire cooling rack or preheated pizza pan with holes. The crust will being toasted crisp like thin crust pizza.
1

large flour tortilla

0.5

(8 ounce) jar pizza sauce
1⁄2 cup shredded cheddar cheese (but any kind can do)

6

pieces pepperoni
turn the oven to 350 F, Get the flour tortilla and place it on a cookie sheet than get the 1/2 jar of pizza sauce and spread it over the tortilla evenly, when that is done get the shredded cheese of your choice and sprinkle that all over the tortilla, get the pieces of pepperoni and spread on to the tortilla, place the pan into the oven and cook for 5-7 minutes or until the cheese is melted and the edges of the pizza is crusty but you don't want it to crusty. remove from oven and get a large place and place the tortilla on the plate -- and serve.
( the tortilla doesn't get stuck to the pan so you and use a spatula and slid it over onto the plate.).