Easy Refrigerator Biscuit Calzones
teresas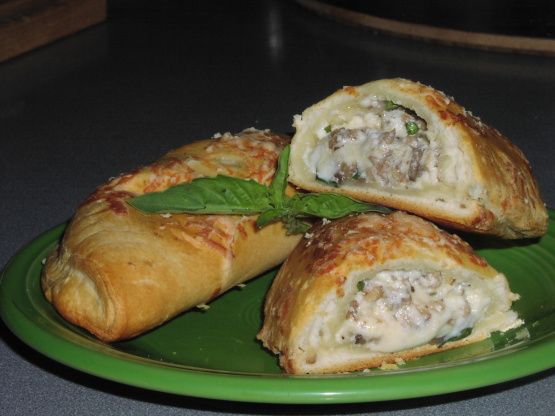 Great little appetizers, and so simple to make.

What with the cheeses, the sausage & the marinara sauce, these little tasties were flavorful enough for us to enjoy for a meal! Good enough, in fact, for me to make again to have on my next finger food buffet for a group I host! Thanks for sharing the recipe! [Made & reviewed in the current ADOPT A TAG event]
1

tablespoon olive oil
1⁄2 lb sweet Italian sausage, ground

1

cup portabella mushroom, diced

1

cup part-skim ricotta cheese

1

cup mozzarella cheese, shredded
1⁄4 cup fresh basil, chopped
kosher salt, to taste
black pepper, to taste

2

(10 ounce) cans refrigerated biscuits, 16 in total (Grands)

1

egg, mixed with 1 tbsp water for eggwash
1⁄2 cup parmesan cheese, grated

2

cups marinara sauce, warmed
Preheat oven to 375°F Heat olive oil in a large skillet over medium high heat. Add sausage and cook about 4-5 minutes, breaking up the sausage with a wooden spoon as you go along. Add mushrooms and continue cooking until sausage is done and no longer pink.
Meanwhile, in a large bowl, mix well the ricotta, mozzarella, and basil. Season with salt and black pepper. Set aside.
Roll out each biscuit onto a lightly floured work surface using a rolling pin. Roll/flatten until double in size (6"-7" in diameter).
When sausage mixture is done, drain well on paper towels, patting down well to remove as much grease/oil as you can. Add to cheese mixture. Blending well.
To the rolls, place about 2 heaping tablespoons of the mixture into the center, keeping away from the sides. Using a pastry brush, brush around HALF of the edges. DO NOT BRUSH ALL AROUND OR IT WILL NOT STICK TOGETHER.
Fold rolls in half over the filling (fold the un-brushed side onto the brushed side). Seal the edges by gently pressing the tines of a fork around the folded edge.
Place onto ungreased baking sheet (best to use parchment or a silpat underneath) Brush tops with remaining eggwash and sprinkle with parmesan cheese. Using the tip of a sharp knife, pierce hole in top of calzones to allow steam to escape.
Bake for approximately 20 minutes until golden brown. Let sit a few minutes before serving with marinara sauce.