Easy Eggplant (Aubergine) Parmesan
Pam-I-Am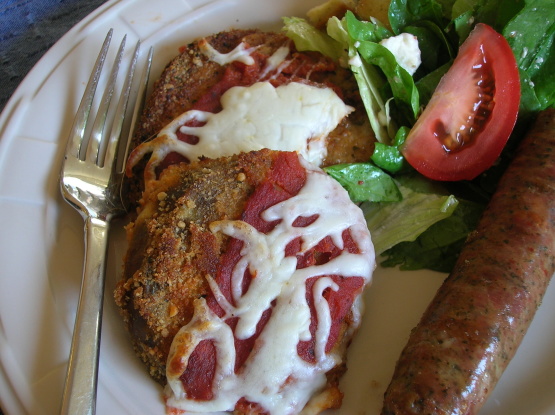 This is a quick and easy meal my family loves! Never any leftovers! This recipe can easily be doubled.

This recipe was so simple and so delicious. I made this for dinner last night and served it over angel hair pasta along with a side salad. My husband and I were both very impressed with the results. I've never made any dish that had eggplant in it because I thought I wouldn't like it. I was so wrong. I did make some small changes though. Instead of just seasoning my eggplant with salt and pepper I added some onion and garlic powder. I fried it in some olive oil infused with basil and it was just wonderful. This recipe is a keeper. I can't wait until tonight for leftovers :) Thanks for posting!
Slice eggplant into 1/4 inch slices.
Salt and pepper.
Dip in beaten egg.
Dredge in bread crumbs mixed with parmesan cheese.
Fry till golden brown.
Place in baking dish.
Pour spaghetti sauce over top.
Top with mozzarella cheese.
Bake at 350 for about 30 minutes.
Serve over angel hair pasta and with a salad.