Easy "6" Ingredient Steamed Mussels in Beer
Bergy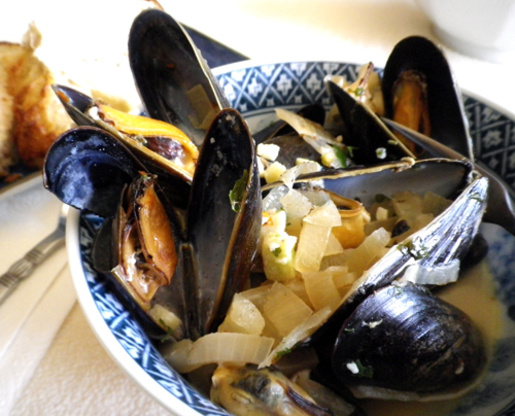 Now this also works with clams as well, but my favorite is mussels. This is so easy and quick to make. It is a wonderful starter dish or even a main course. Just make sure to have some crusty bread to go with it. My favorite is slice your baguette in half and drizzle with olive oil and toast. Rub it with fresh garlic and a slice of tomato for a wonderful fresh flavor. Just a Note: I didn't count the olive oil to saute the vegetables in or the salt and pepper in the six ingredients. It is still very very easy and absolutely delicious. These amounts work good for 1-1 1/2 lbs. Just double each of the ingredients if you are using more mussels.

Another Winner! We replaced the mussels with Shrimp and this was the first time I have cooked with raw shrimp before...I was always leary about them getting to rubbery so I was too scared to try it. Glad I did....I only had the shrimp in the pot for about 5 minutes and that was perfect timing. I used 1 pound of shrimp but this made enough broth for at 2 pounds...and I wish I had made more. I will do this more often. This was a before dinner appetizer for our New Years Eve dinner. Thanks so much for the recipe SarasotaCook!
1 -1 1⁄2 lb mussels

1

(12 ounce) bottle beer (I prefer an amber or lager, but any beer will work)

1

medium onion, cut in half and thin sliced

2

teaspoons garlic, minced

1

pinch red pepper flakes (optional)

2

tablespoons fresh parsley, minced fine

2

tablespoons butter

1

teaspoon olive oil to saute the onion and garlic
salt and pepper
Base -- In a medium wide saute pan, add the olive oil and bring to medium high heat. Add the onion and garlic and saute a couple of minutes.
If you like a little heat, add a pinch of red pepper flakes, this is completely optional.
Mussels -- One NOTE: Very important. Rinse the mussels well in cold water in a collander. Make sure that any opened mussels you tap a couple of times and if they do not close, they are BAD (dead) and make sure to toss those out.
Add the beer and mussels to the pan and reduce the heat to medium and cover. Simmer approximately 5-7 minutes until the mussels begin to open. Turn the heat off and add the butter and parsley and stir well. Don't over cook the mussels. You just want to make sure they all open well.
Serve -- As I mentioned - crusty bread. I like to drizzle with olive oil and toast, then rub with a garlic clove and a tomato. Just cut a tomato in half and rub over the bread. It has amazing flavor. The broth and onions in the broth are a great topping to the bread with. ENJOY! This very simple easy dish.