Dutch-Style Beef and Cabbage (Crock Pot)
Parsley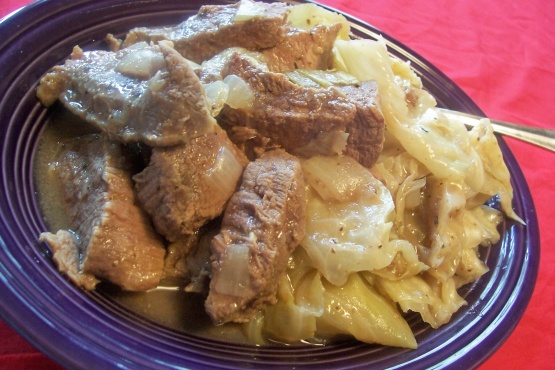 This is a long time favorite of mine. From a very old (1976) BH&G Crock pot Cookbook. You can also cook this in the oven in a covered casserole.
Loved it! Loving it...still eating. I did change it a little. I used a casserole dish. And I added my chopped cabbage immediately and cooked it together. Regardless the flavor is fantastic and the cabbage I feel is cooked perfect. Thank you.
Slice round steak into thin strips.
Combine flour, salt, and pepper; coat meat with flour mixture.
Heat oil in skillet and brown meat on all sides; transfer meat to crockery cooker.
Add onions.
In same skillet, add water, vinegar, and bouillon granules.
Stir together, scraping browned bits from skillet; pour over meat and onions in crockery cooker.
Cover and cook on LOW for 8 hours.
About 15 minutes before serving, cut cabbage into 4 or 5 wedges.
Cook in a 3 quart saucepan in a large amount of salted water until tender, 10 to 12 minutes; Drain well.
Serve beef mixture over cabbage wedges.
NOTE: I just add the cabbage to the crock pot over the beef and onions.
I think it's more flavorful that way.
You can bake this in the oven.
Place in a covered casserole dish and bake@ 300 for 2 hours You should double water, vinegar, bouillon mixture if you choose to bake it.
Check liquid during baking and add more if too dry.