The beetroot is the big detoxer here. Don't drink more than one beetroot a day at first, you have to build it up gradually. Drink it when made. Try to use organic produce. This might not be the most delicious drink to make and drink but it is truly very good. I started drinking this during my chemo treatments and really helped my whole system. I then used to drink it every day, now once a week for maintenance. More times if I have a cold or feel under the weather.
Directions
Push everything through the tube of the juicer.
Reviews
Most Helpful
I am not a big beet fan (it has too much of an earthen taste for me), but the flavor is honestly masked by the carrots and apple. I had no trouble drinking this, and you can't beat the benefits! I will be having this often. Made for 1-2-3 Hit Wonders Tag Game.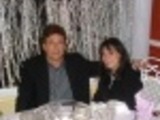 I love this...I do like 8 carrots, 2 apples, 1 cucumber, and 1 beetroot. This makes enough for me to have three or four 8 ounce servings. I drink these throughout the day. I love the color of it and it is actually quite tasty. The first time I made it I wasnt to sure of the taste but after I drank it that day I acquired the taste for it.
Pets you are so wrong it is really quite delicious! A very sweet drink. I think the chemo had fun with your taste buds. This is very sweet. Give an instant boost of energy! I`ll be making this a lot. Thanks for having me pull out my juicer.;)