Crispy Pizza With Shredded Chicken, Scallions, and Smoky Sweet B
Boomette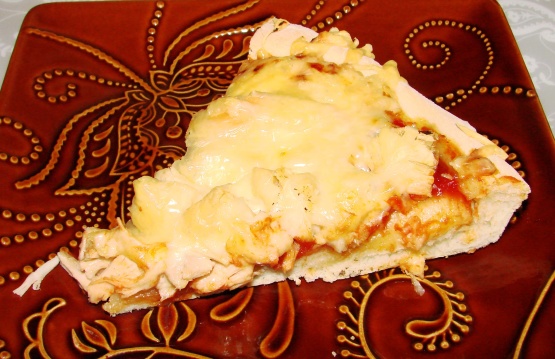 Barbecue sauce on pizza? Yep - try it, you will like it. This pizza is good for those who suffer from IBS.
We found that the bbq sauce is not tangy enough. I think we would have liked it more with less ketchup. I used rotisserie chicken and since it's a pizza, DH absolutely wanted cheese on top. It was great :) Thanks morgainegeiser :) Made for the Australian Recipe swap for December 2011
Combine all ingredients for barbecue in a small saucepan and simmer frequently until reduced, about 15-20 minutes. Makes about 1 1/2 cups sauce.
Preheat over to 450 degrees.
Brush dough very lightly with olive oil.
Bake untopped dough for about 5 minutes until it is dry but not browning.
Remove from oven, spread evenly with barbecue sauce and sprinkle with chicken and scallions.
Bake for another 5-7 minutes or until edges are crispy and lightly browned.