Junebug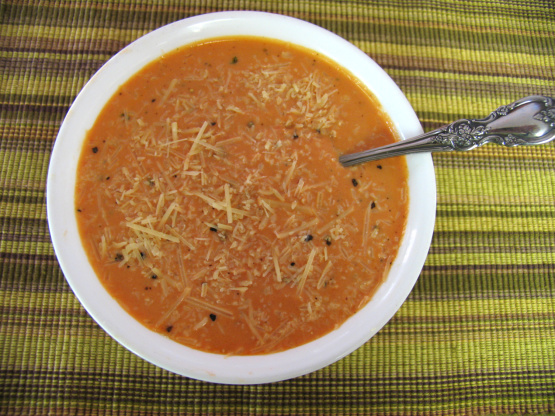 This recipe came from my friend, Michelle, who I used to work with...This was her Mom's recipe -- who was the chef in a small bistro here in Southern Indiana...Michelle's Mom passed away a couple of years ago and I'm so proud to have this recipe to pass on...

Yummy stuff!! I tweaked it a tad by using fresh tomatoes, skim milk, and Low-fat Heavy Cream Substitute (Recipe #113203). We thoroughly enjoyed this wonderful take on tomato soup! Thank you for the recipe!
Combine all ingredients, adding each one slowly, stirring constantly to smooth out the lumps as you go -- (NOTE: I believe Michelle told me to use a hand mixer to smooth out any lumps BEFORE you add the basil, salt & pepper.).
Bring to a simmer (just bubbly around the edges) - DO NOT BOIL.
Simmer slowly for at least 40 minutes, then serve with buttered, crusty bread. YUM!