Corned Beef and Cabbage (Crock Pot)
Parsley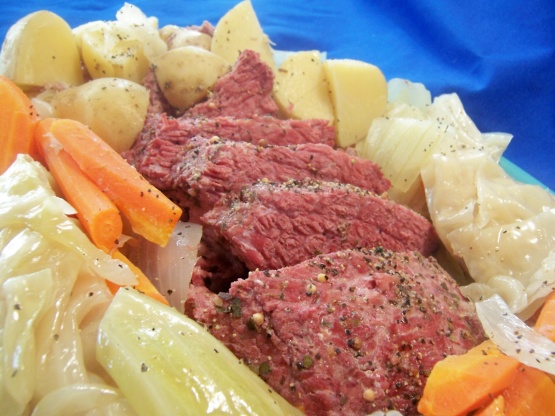 Here is an easy way to fix your Corned Beef and Cabbage, in the Crock pot! I found this recipe in The Best Slow Cooker Cookbook Ever

Loved it! I looked for a Corned Beef and Cabbage receipe for our recent St Patrick's Day dinner. Wanted something tasty and simple and this recipe fit the bill to a T.

Reading other reviews on here, I took their advice and waited to put my cabbage and potatoes in. At the five hour mark, I added the cabbage, potatoes and a bag of baby carrots. Cooked on high for another hour and a half. Came out wonderfully!

The only changes I made was to delete the sugar (didn't miss it a bit) and add a bag of baby carrots. When I make this again, I would turn the heat down from high to low for a good portion of the time as the corned beef literally fell apart. While awesomely tasty, I would have preferred it slightly more firm.
Combine the water vinegar, sugar, pepper and onions, in a 6 qt crock pot and mix well.
Place corned beef and contents of spice packet in the mixture.
Scatter the potatoes and carrots over the top and along the sides.
Cover and cook on high heat setting 4 hours.
Remove the lid and scatter the cabbage wedges over the top.
Cover and continue cooking on low 3-4 hours longer, or until beef is tender.
To serve, carve the beef into slices against the grain and serve with the cabbage and potatoes, with some of the cooking liquid spooned on top of the beef to keep it moist.