teresas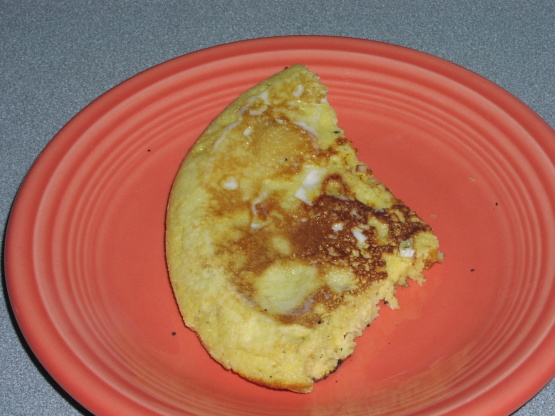 I like this because it's so quick and easy to prepare. It looks like a puffy pancake, but cuts easily and tastes great.

This is a great quick cornbread recipe! I doubled it and cooked it in a larger skillet. I also added some chopped green chile peppers to go with some hot/spicy beans. If I make it without the chiles, I think I'll need to add a little sugar.
In bowl, combine flour, cornmeal, baking powder& salt.
In another bowl, beat the egg,milk and 3 tspn oil Stir into dry ingredients just until moistened Heat remaining oil in heavy 8-in skillet over low heat Pour batter into the hot skillet, cover& cook for 4-5 minute.
Turn and cook 4 minutes longer or until golden brown.