Corn on the Cob in a Garlic Butter Crust
-Sylvie-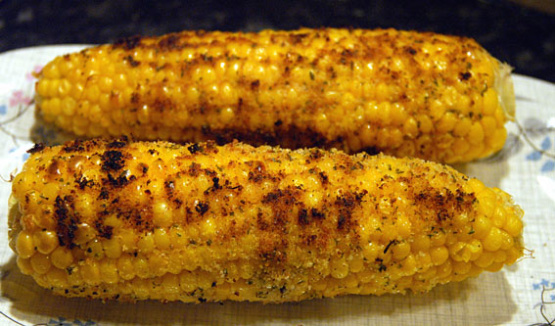 Whether you are cooking for vegetarians or serving this with meat dishes, it will disapper in a flash. The charred garlic butter crust adds a new dimension to the corn on the cobs.

Top Review by ashwee
not as garlicy as I had hoped. Kind of dry also. I think if i was to make it again i would save the garlic butter I had rolled the corn in and pour a bit over the corn before eating. also make it would help to put the garlic in a food processor to mince it instead of crushing it. this would bring out more of the garlic flavor in my opinion
6

corn on the cob

1

cup butter

2

tablespoons olive oil

6

cloves garlic, crushed

1

cup breadcrumbs (seasoned works best)

1

tablespoon fresh parsley, chopped
salt and pepper
Preheat Barbeque.
Pull off the husks and silks and boil the corn cobs in a large saucepan of salted water until tender.
Drain the corn cobs and leave to cool.
Melt butter in a saucepan and add the olive oil, crushed garlic, salt, pepper and stir to blend.
Pour the mixture into a shallow dish.
In another shallow dish, blend the breadcrumbs and parsley.
Roll the corn cobs in the melted butter mixture and then into the breadcrumb mixture until they are well coated.
Cook the corn cobs on a hot barbeque for about 10 minutes, turning frequently, until the breadcrumbs are golden brown.