Pamela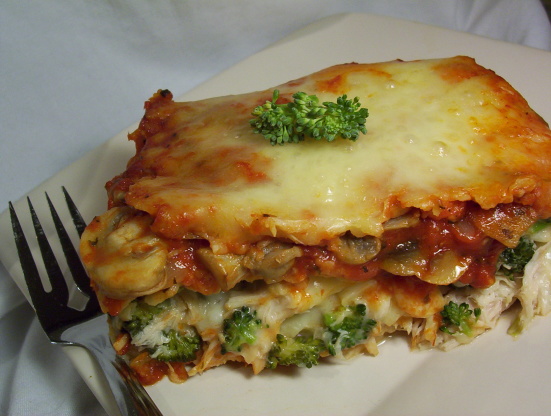 Posted in response to a "Lasagna" Talk Thread. This recipe is from my friend's mother in law. This recipe is perfect for using up leftover turkey after Thanksgiving or Christmas.

This is an excellent way to use up some of that leftover turkey you always have from Thanksgiving or Christimas, much better than your standard leftover turkey sammies. Although the instructions are a little lacking, this recipe is still tough to mess up as you only need to prepare both the sauces and the pasta, layer as directed, then pop in the oven. I decided to sautee the onions and mushrooms in olive oil, melted butter in the microwave, then stirred into a mixing bowl. This turned out wayyyy better than I thought and I even like it better than your standard beef lasagna. The white sauce is very hearty, compliments the red sauce nicely, and they blend perfectly with the turkey and veggies. This is definitely one of the best lasagna recipes I've ever tried and I'll definitely be making this again even if I have to go out and buy another turkey to cook. A !
Place 1/2 Tomato sauce mixture on the bottom of a 9x13 inch pan.
Top with 3 noodles.
Then 1/2 of the broccoli sauce.
Followed by 3 more noodles.
Add rest of the broccoli sauce, add the last 3 noodles.
Top with the last of the tomato sauce and finish with the mozzarella cheese.
Bake at 350 degrees for 30 to 40 minutes.