Salialto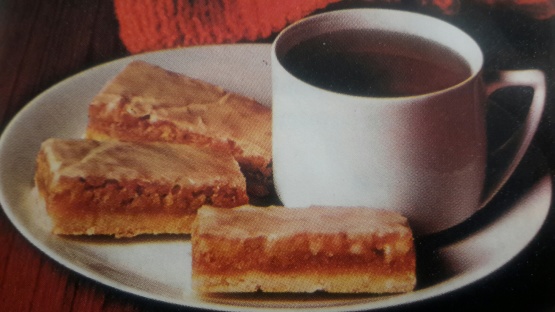 I make these for my dad all the time, he generally burns his tongue on them because he can't wait to taste them! I got this recipe from the Betty Crocker Cookbook.

I forgot all about this recipe until I stumbled across it here. This was a favorite of mine as a kid and I'm totally making it today! I love the contrast of the buttery, nutty base with the citrus icing. Yum! Thanks for posting it, making it so easy to import into my recipe app.
Heat oven to 350. Mix powdered sugar and shortening. Stir in 1 1/2 cups of flour. Press in ungreased oblong pan 13x9x2 inches. Bake until golden brown, 12 to 15 minutes.
Mix remaining ingredients. Spread over baked layer. Bake 20 minutes; cool. Frost with Orange Lemon Frosting if desired.