Chocolate Pistachio Fudge
Dorel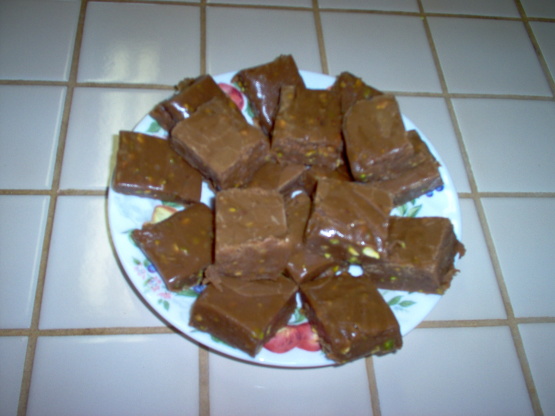 This recipe is from Super Food Ideas magazine, I haven't made this recipe yet. However, I'm planning on making this to go in my Christmas hampers to my friends. Cooking time is chilling time

Top Review by Dorel
If you love pistachios and Bailey's this is for you. Very nice delicate flavour. I had to make some changes as our condensed milk comes in 300g tins. So I had to downsize the recipe accordingly. Used 3/4 cup brown sugar, 1 1/2 Tablespoons corn syrup, 94g butter, 112g milk chocolate, 1 1/2 Tablespoons Bailey's and a little over 1/2 cup pistachios. I put it into an 8"X8" pan. I think you could use semi-sweet choc for more of a richer flavour. I really like being able to use the microwave as I don't have any success on the stove using a candy thermometer. Thanks for a tasty and easy way to make fudge.
Grease& line the base& sides of a 7cm deep, 30cm x 7.
5cm bar pan.
Combine condensed milk, sugar, glucose& butter.
Microwave uncovered for approx 8 mins or until mixture begins to boil, whisking every 2 mins.
Continue to microwave for 3-4 min on medium, whisking every minute, until thick& golden.
Remove from microwave add chocolate, stirring until mixture is smooth.
Stir in the nuts and liqueur, mix well.
Spoon into prepared bar pan, set aside for 1-2 hours to cool to room temperature.
Remove from bar pan and cut into approx 15 small slices/bars, individually wrap in greaseproof paper.
Store in airtight container in the fridge.