skat5762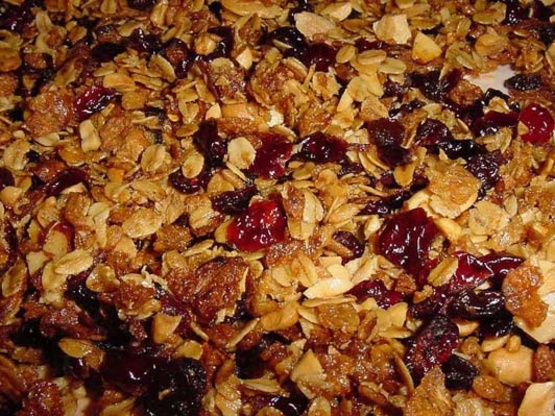 Posted by request. Hopefully, these will help you save a buck or two on your granola bar addiction!

It's funny how differntly we can each perceive a recipe! :) I found these to be very, very good... but almost too sweet. I followed the recipe exactly, but next time I think I'll begin cutting back the syrup by at least 1/4 cup. That said, there is nothing to compare to the taste of fresh granola, and I will indeed be trying these very soon!
Heat oven to 325F degrees.
In 13 X 9" baking pan spread rolled oats.
Bake, stirring occasionally, for 20 to 30 mins or until light golden brown.
Stir in crisp rice cereal, bran flakes, almonds/nuts and sunflower seeds.
Continue baking for 14 to 16 mins or until lightly toasted.
Remove from oven; stir in raisins and dried fruit.
In small bowl stir together butter and syrup; pour over cereal mixture.
Stir to coat well.
Continue baking, stirring occasionally, for 45 to 50 minutes or until mixture clumps together and is golden brown.
Spread on waxed paper.
Cool completely; break into pieces.