Bobtail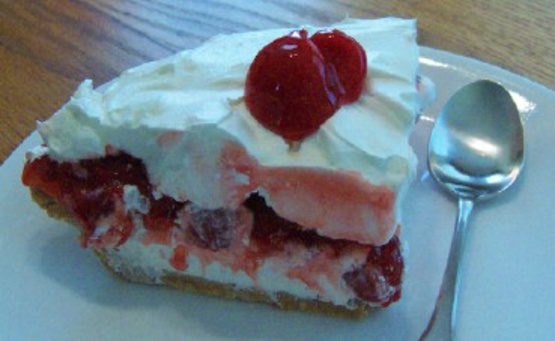 A delicious dessert with cherry pie filling, whipped cream and marshmallows

Oh my goodness so this recipe is still around. Years ago it was my "go to" recipe for company. Would not suggest you substitute cool whip or whatever.........I did once and it was much too sweet. The whipped cream is the best in the end. Also, you can use thickened raspberries (just cook down and thicken a little) rather than cherry pie filling.
Blend the graham crumbs with the melted butter and the icing sugar. Spread in a 9 x 13 pan, saving out some to sprinkle over the top when finished.
Whip the cream, fold in the marshmallows and spread half of this over the graham base. Spread the tin of cherry pie filling over the cream mixture. Spread the rest of the cream mixture over the pie filling and sprinkle with the reserved crumbs.
Keep in the fridge.
I use the bagged graham wafer crumbs and.
I've never tried this with KoolWhip so don't know if it would turn out the same.I say.never fool with perfection -- lol.I've also used 2 tins of the pie filling if it looks thin.