Cheese Herb Stuffed Chicken Breast
Derf2440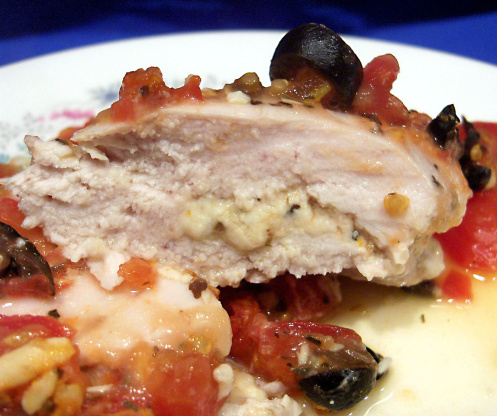 This is an easy Mediterrean type chicken dish.

This was very yummy! My chicken breasts were not all the way cooked after 45 minutes so I broiled it for an additional 10 minutes. We added salt and a few drops of hot sauce after they were done. Me and my husband really liked this and it was easy to make, thanks!
Cut a 2 - 3 inch slit in each chicken breast. Combine feta cheese, parsley, olive oil and oregano and mix well. Stuff each chicken breast with an equal portion of cheese mixture. Place stuffed chicken breasts in a baking dish. Combine tomatoes, olives and cornstarch and mix. Pour over chicken and bake for 45 minutes at 350 degrees.