rpgaymer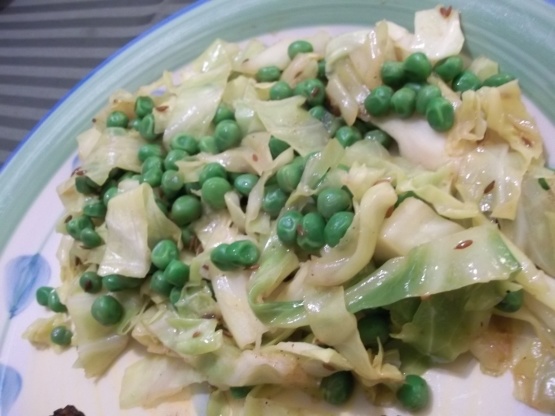 A friend sent me this. She used it as a side dish with chicken.

Looking for a quick way to prepare cabbage when I came upon this. Since the same chef's chicken curry is one of my favorite Zaar recipes, this one caught my eye. Like that dish, this one is quick and full of wonderful, well balanced flavors. I used less oil than stated and found myself sprinkling a tablespoon of water along the way. Having tasted the dish just before adding the salt and sugar, I was surprised what a world of difference they made to the cabbage. Then the garam masala just made it perfection. Thanks Chef Dudo.
Core the cabbage and slice into fine long shreds.
Preheat the oil over medium-high heat in a large heavy skillet.
When hot add the cumin seeds and bay leaves, cooking for just a few seconds.
Add the cabbage and peas, stirring to mix well.
Add the turmeric and cayenne, mixing well.
Cover and reduce heat to a simmer and cook for 5 minutes, or until vegetables are crisp-tender Add the chili, salt and sugar, stir to mix.
Cover and cook an additional 2 minutes.
Remove from heat, add the garam masala, stir gently to mix and serve.