Broiled Indian Spiced Fish
JustJanS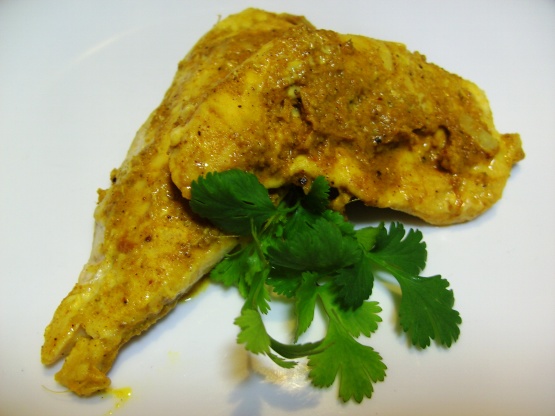 From Madhur Jaffrey's Simple Indian Cookery, a delicious and truly simple dish.

We really enjoyed this Indian spiced fish recipe. It was easy to prepare and packed a lot of flavor. I used swordfish and halved the recipe to suit 1 lb of fish, which worked fine. Other than halving, we made no modifications to the recipe. It was perfect as is. We served with Recipe #17382 17382 as a side. Thanks for a great, easy dinner!
In a small bowl, combine ginger, garlic, garam masala, cumin, turmeric, mustard powder, cayenne pepper, lemon juice, 3/4 teaspoon salt, and a pinch of black pepper. Stir in about 1 tablespoon warm water to form a very thick paste.
Brush a baking sheet or broiler pan with 1 tablespoon butter; place fish on top.
Cover fish on both sides with marinade; set aside for at least 15 minutes but no more than 30 minutes.
Preheat broiler.
Drizzle 2 tablespoons butter over fish; broil until nicely browned, 5 to 6 minutes. Turn over steaks, and drizzle with remaining 2 tablespoons butter; broil until browned and cooked through.
Serve immediately.