gailanng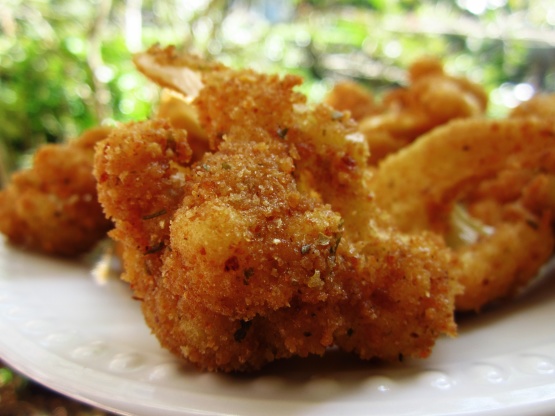 I thought this recipe would be here, but didn't see it. It's one of my favorite ways to have cauliflower. My Grandmother made this often. Frying it with breading just does something to the flavor. You can also add other spices to change the flavor, such as Italian spices, Essence, Garlic, etc. It is so easy.

Top Review by Yaneya
I used sour cream with some, not all flour and only one egg. Also didn't use breadcrumbs. Turned out very good. I would suggest dipping cauliflower in the boiling water before you start separating it into the smaller pieces, this will prevent easy braking of small pieces.
1

head cauliflower

2

eggs, beaten slightly

59.14

ml flour (or more)
salt and pepper (Emeril's Essence for a zesty flavor)

236.59

ml breadcrumbs
oil (for frying)
Cut apart the florets of your Cauliflower.
Don't cut them too small.
Leave the smaller ones together with the stem to make them as large as your bigger ones.
Rinse, and dry slightly with a paper towel.
Pour about 1/2" to 1" oil in your frying pan and begin prheating the oil.
Careful don't make it too hot, you don't want to burn the crumbs.
In a bowl, beat eggs slightly with a whisk, slowly adding a little flour at a time.
You want a thick enough batter to cling to the cauliflower.
If you have made it too thick, you can always add milk, or too thin, more flour.
Salt and Pepper the florets, or use the"Essence" for variance.
Coat each cauliflower in the batter, then in the bread crumbs.
Then proceed to put them in your preheated oil to fry.
Turn to brown all sides.
Drain on paper towels.
Serve hot.
Easy!