Bread Machine Moravian Sugar Cake
Rita1652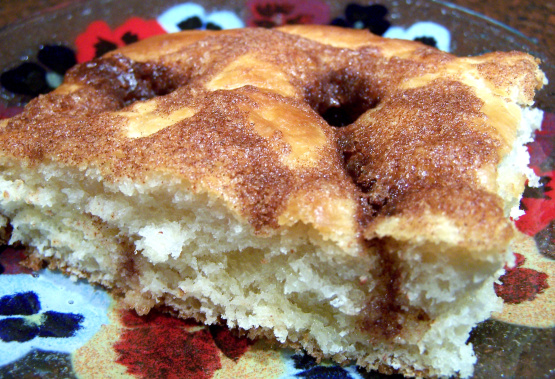 This makes a great sugar cake without all the work. My boys beg me to make this all the time and since it uses the bread machine I can.

Great bread machine version of Moravian sugar cake. This is not just any coffee cake. It is a very old tradition of early American Christians who settled in parts of Pennsylvania and North Carolina (primarily Winston-Salem, NC and Bethlehem, PA). The icing is not traditional based on what I know. I've never seen icing on a sugar cake in Winston-Salem, NC (and I've been eating sugar cake for over 30 yrs). I didn't and wouldn't bother with the icing. There's plenty of sweetness without it !!!! This cake is very, very sweet. If you want it slightly less sweet, add a little extra cinnamon (maybe 1/2 teaspoon) and reduce the brown sugar you sprinkle on top. It will still be awesome! Don't be perfectionistic about putting the dough in the pan...it is supposed to be the consistency the author says it should be. Try to get it to stick to the sides of the pan a bit as you spread it out and it will stay put better. It doesn't have to be perfectly even b/c you are going to punch holes in it and douse it w/ brown sugar & butter anyway...so not to worry. Other wonderful Moravian treats are their cookies and their love feast buns.
Place dough ingredients in bread pan, select Dough setting and press Start.
When dough has risen long enough, the machine will beep.
Turn off bread machine, remove bread pan, and turn out dough onto a floured countertop.
Grease a 15x10x1 inch jelly-roll pan or 16x12x1 inch baking pan.
Place dough in pan; gently stretching it, press it evenly into pan.
Cover and let rise in warm oven 30 to 45 minues until doubled.
In small bowl, combine brown sugar and cinnamon for the topping.
With 2 fingers, poke deep holes all over the dough.
Sprinkle sugar mixture evenly over dough.
Drizzle melted butter on top.
Preheat oven to 350 degrees.
Bake for 20 to 25 minutes until golden brown.
Remove from oven, place on serving plate.
Serve warm without icing or allow coffee cake to cool sightly and combine the confectioners' sugar and milk for the icing and drizzle on top of cooled coffee cake.