Brauoterta - Icelandic Style Sandwich Loaf: Shrimp
twissis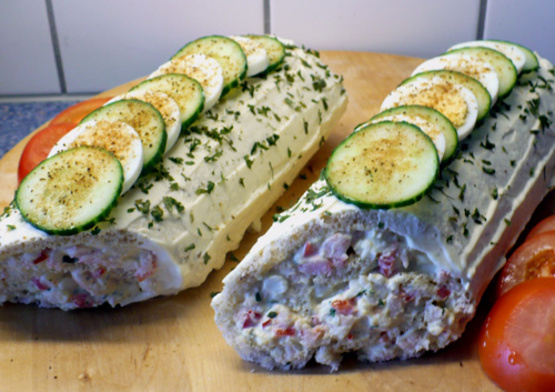 Sandwich loaves, or 'bread cakes' as they are called in Iceland, are an enduring presence at Icelandic celebrations where cakes are served. While the fillings have changed over the years and they don't use half as much mayonnaise in them as once was the case, yet they continue to be a vehicle for cooks to display their talents with garnish, and are a savory palate cleanser in between nibbles of all the sweet cakes usually served at traditional birthday parties. See note at end of recipe regarding the bread that is used. Recipe is from icecook.blogspot.com. Posted for ZWT9.

Made for ZWT-9 & a fellow Goddess - I had always wanted to make a Braudterta & then came face-to-face w/your recipe in the AP Cookbook. There are actually 2 types of bread used for Braudterta - Loaf-type slices that are filled & layered .. or .. Larger jelly-roll-type slices that are filled & rolled. The jelly-roll-type slice is used more often & all we could find. I made the filling a dy early using Icelandic baby shrimp, chilled it overnight & assembled the terta today about 2 hrs prior to serving at an afternoon coffee for 9 (This prevents the bread from becoming soggy as the terta sits). 1 of the pitfalls of a specialty recipe like this when made by a cook familiar w/the "tricks of the trade" is they are on "auto-pilot" & do what they know to be best. I admit to revising your recipe w/the use of cream cheese. For the filling, I used 1 cup mayo, 1/2 cup sour cream & 1/2 cup cream cheese (same total volume as recipe, but reduces the mayo & sour cream). For the "frosting", I used a combo of mayo & cream cheese w/only a sml amt of sour cream. When chilled, both chgs make the terta less fragile to decorate, slice & serve. Using the curved jelly-roll-type bread limits how you can garnish, so I kept it simple w/a layer of cucumber & egg slices on top & tomato slices served to-the-side. Lastly it was sprinkled w/dry parsley flakes plus Old Bay Seasoning as a matter of pers pref. Bottom Line: We loved it & our guests loved it too. Thx for inspiring me w/your recipe. :-)
Mix the mayonnaise and sour cream until smooth and well-blended. Add the bell pepper, mashed eggs, and garlic powder. Mix well. Add the shrimp and stir to combine. Season to taste with black pepper.
Place a layer of bread on the serving plate or tray and spread half the filling over it. Top with another slice of bread and spread the remaining filling. Top with the third slice of bread.
Mix a small amount of mayonnaise and sour cream, then smooth a thin layer evenly over the loaf, both top and sides. Decorate to your liking with the garnish ingredients, which can include large shrimps, egg slices and vegetables, e.g. bell peppers, cucumbers, tomatoes, chopped parsley.
NOTE ON BREAD: The bread is basically a pan-baked loaf of white sandwich bread that has been sliced lengthwise. The crusts are removed, leaving between 4 and 6 long slices of bread. This is probably not available at the bakery, but you could buy or make a whole unsliced loaf and slice it yourself.
NOTE ON MAYO: Icelandic mayo is not vinegary tart and also not as runny as American style mayo. Buy Icelandic, or a close approximation is Kewpie brand mayo, easily found in Oriental stores.