Prep 20 mins
Cook 30 mins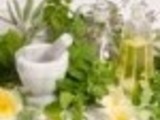 Low fat and low calorie in this wonderful tasting soup.
Directions
In a 2 to 3 quart pan, combine butter, onion, and garlic.
Stir occasionally over medium heat until onion is limp and slightly tinged with brown, about 10 minutes.
Stir in flour to coat onion.
Gradually stir in broth, and bring to a boil on high heat.
Add potato and carrots; cover and simmer over low heat until potato is tender when pierced, 15 to 20 minutes.
Add chicken; cover and simmer just until chicken is hot, 1 to 2 minutes.
Stir in basil.
Ladle into bowl and offer cheese to add to taste.
Most Helpful
Have an excess of basil growing in my garden. Loved the fragrance and taste of it in this soup recipe. I doubled the chicken for more body. Needed a good shot of salt and pepper for my taste. Enjoyed with Italian Parmesan Bread for lunch. Thanks.

I made this soup this evening for DH and I to take for lunch tomorrow. I love it! The broth is really delicious--love the taste of the fresh basil. Admittedly, I tried to "cheat" by buying cooked chicken already in diced cubes--I wont do that again. It kind of detracted from the taste in a way that fresh chicken would not. I thought the broth was so good that you don't even need to add the chicken necessarily, if you just want it to be an all veggie, chicken-flavored soup. I grated fresh parm into the soup, but could not really tell the difference, so I might omit it next time. I'll definitely make this soup again. Thanks, Rita!

Basil is overtaking my garden and this was the perfect way to get rid of some! Simple flavors combine to make this refreshing soup - much appreciated even on a warm summer's night. My DH added fresh ground pepper to his, although I don't think it was needed - perfect as is! I'd even skip the parm next time. Made for ZWT4.