Barbecue Tri-Tip Marinade

Tri-Tip roast is a tradition on the central coast of California but I don't know how available it is in other places. But any comparable roast that you can bbq would do.
Directions
Place the roast in a zip-lock bag, pour in the soy sauce and the beer and add the whole, peeled garlic cloves. Marinate in the fridge from two hours to overnight - turning occasionally.
Barbecue the roast to desired wellness, cut against the grain and serve with flour tortillas, shredded cheese and your favorite salsa.
Simple and delicious.
Reviews
Most Helpful
This marinade produced a very juicy roast with our 4 hour dunking. As per Nado2003, we reduced the soy sauce by about half. The flavor was well-balanced and well-done overall. We cooked the 1.5 pound tri-tip with indirect heat on the grill rather slowly. Using our thermometer probe, we cooked the meat to an internal temperature of 150 and it was perfectly done. Recommended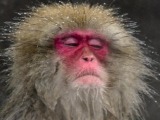 Very easy. Love That. I will reduce the amount of soy sauce next time because there will be a next time. Thank you.
This is a great marinade that really makes for a tender tri-tip. I used the full amount of beer, but half the soy sauce and the lesser amount of the garlic, because I also wanted to use a dry rub from Santa Maria (central coast) that contained salt and garlic. The result was delicious.