V.A.718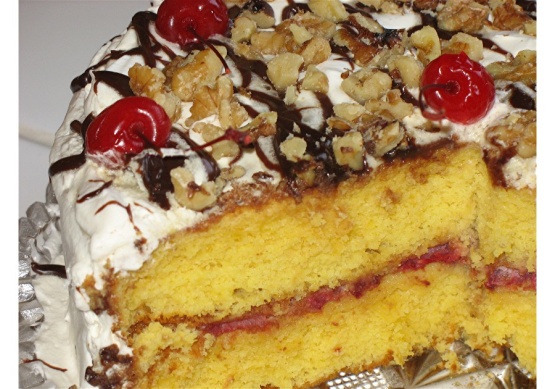 One of the best cakes I've ever had. This one isn't made with graham crackers, but is actually a cake. It's not only wonderful tasting, but beautiful too!

Incredible! I'm not a fan of artificial banana flavoring, but I added the banana pudding to the batter as directed, then added about 10oz of crushed pineapple and sliced strawberries to it before baking in a 9x13 dish instead of layering. After it cooled over night in the fridge I mixed more crushed pineapple into the cool whip frosting and then spread cut up strawberries, bananas, cherries with stems for presentation and chocolate syrup on top. Would have LOVED to add nuts, but I'm the only fan in my new
Preheat oven to 350 degrees F.
Coat two 8" cake pans with nonstick cooking spray.
In a large bowl, with an electric beater on medium speed, beat the cake mix, pudding mix, water, oil and eggs until smooth.
Stir in the pineapple then pour the batter into the cake pans, dividing equally.
Bake for 35- 40 minutes, or until a wooden toothpick inserted in the center comes out clean.
Allow to cool for 15 minutes then invert onto wire racks to cool completely.
In a small bowl, combine 3/4 cup whipped topping and the strawberries and mix well.
Place one cake layer on a serving plate and frost the top with the strawberry mixture.
Place the second layer over the first then frost the top and sides with the remaining whipped topping.
Drizzle with hot fudge then place the cherries around the edges of the cake top and sprinkle evenly with the nuts.
Serve immediately, or cover and chill until ready to serve.
NOTE: Warm the hot fudge enough to make it pourable, but don't allow it to get too hot or it will melt the"frosting"!