Lainey39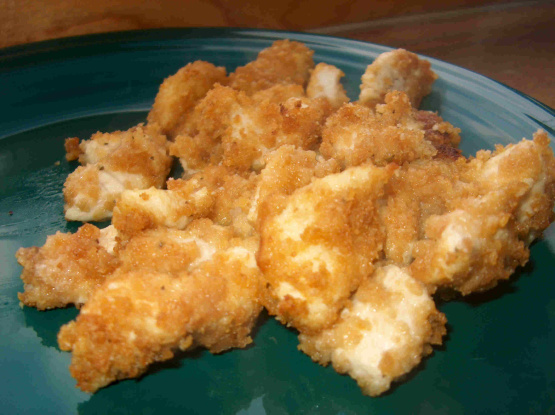 Two bowls and a pan--not much of a mess! Probably want to double the recipe since there will be NO leftovers!! Everyone loves these little crunchers!

These were excellent! I baked for close to 30 minutes, but I cut into strips, not cubes. I made half with ranch with garlic seasoning and half with blue cheese and montreal seasoning. They were both delicious!
Preheat oven to 400; grease an 11x7 baking pan; set aside.
Pour Ranch dressing into Bowl 1.
Combine Bowl 2 ingredients, set aside.
Toss chicken in Bowl 1, then Bowl 2; fluffing artistically :-) .
Place chicken cubes in single layer on baking pan.
Bake for 12-15 minutes.
Serve with additional Ranch dressing.
VARIATION: Use Bleu cheese dressing instead (much more yumm-o for the grown-up palate!).
VARIATION #2: There's always the honey-mustard salad dressing route, too.