Mika G.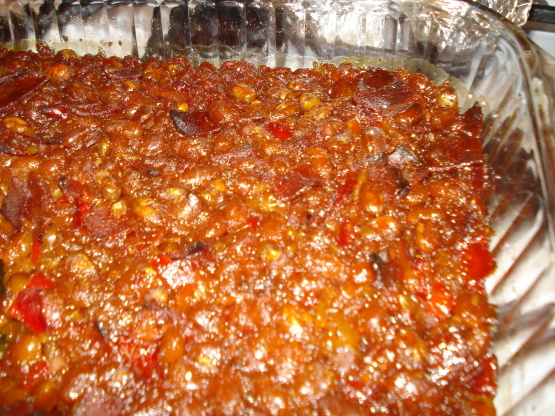 Do you like sweets? If you do you will love this recipe.

Yum! Yum! Yum! These baked beans are so good! I made it for a party of 50. I had MANY people ask for the recipe. I directed them here. I made it with Dijon mustard. Yummy! Thanks for sharing this recipe. I'll definitely use it again.
In sauce pan, fry bacon.
When cooked but still soft, add diced peppers, garlic and onion.
Cook till translucent, add ketchup worcestershire sauce and mustard and simmer for about 5 minutes.
Stir in the brown sugar and simmer, stirring often.
Rinse the pork and beans to remove the sauce [canned sauce is not real food discard it] and add to the sauce that you have made and simmer till hot and bubbly.
Salt and pepper to taste and enjoy.