Rita1652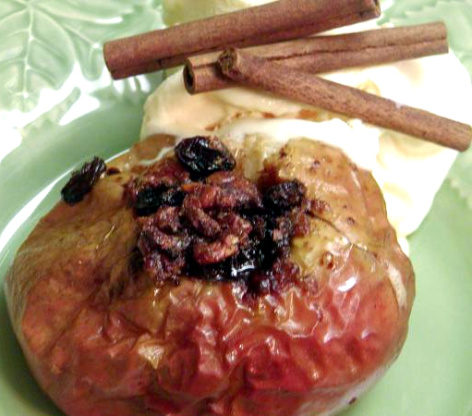 This is sweet, crunchy, hot and cinnamonie. Is that a word? Go ahead and use your favorite choice of nuts. You can replace the rum with apple juice if you don't want the booze. But remember the alcohol will burn off. Ice cream goes sooooo well with the hot soft apples.

My family loved these delicious baked apples with just a hint of rum flavor to go with all those yummy spices. I covered them, and shouldn't have?, as they sorta foamed over the top of the apple when they got done; however, it didn't affect their great taste. Next time I will bake the apples UNCOVERED and toast the pecans and sprinkle them on top when serving apples, as cooking the pecans inside the apples made them a little "soggy". We had this as a side dish for Thanksgiving, they were a nice complement to the turkey and dressing.
6

granny smith apples, cored almost through the apple 1 inch wide hole, peeled optional (The apple does burst open so if you want you can poke a couple of holes in the skin to let the air e)
1⁄2 cup pecans, chopped
1⁄4 cup raisins, soaked in
dark rum, to cover
1⁄2 teaspoon cinnamon
1⁄4-1⁄2 cup brown sugar

3

tablespoons butter
Mix nuts, strained raisins reserving the rum, cinnamon, and sugar ingredients,stuff into apples.
Place into a shallow baking dish that's greased with butter.
Pour remaining rum on apples.
Dot each apple with 1/2 tablespoon butter.
Bake in a 350 degree oven for 45 minutes.
Till fork tender.
Serve hot with a side of vanilla ice cream. (A yummy Must).