loof751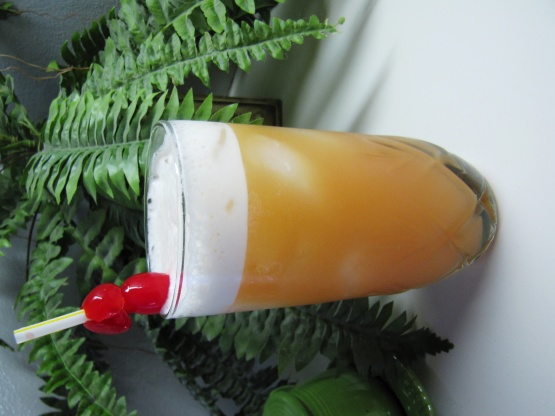 This is a great summer drink from Dale Degroff (The Essential Cocktail) that will go by the pitcher! This recipe is by the glass, though, for sipping on the patio. If you don't have all four rums, you can improvise by doubling up (I would recommend making sure to use dark rum and coconut rum, however). Angostura bitters really make the drink, but could be left out if you don't have them (usually found in the tropical drink section at a supermarket or liquor store).
21.26

g white rum

21.26

g golden rum (anejo)

21.26

g dark rum (preferably Myers's)

14.17

g coconut rum

85.04

g unsweetened pineapple juice

56.69

g orange juice (preferably fresh-squeezed)

4.92

ml grenadine

0.25

ml Angostura bitters

1

maraschino cherry (optional)

1

orange slice (optional)
Combine rums, juices, grenadine and bitters in a glass with ice. Shake well, or stir if you do not have a shaker (two glasses top-to-top work well as a shaker, just make sure they seal tightly).
Pour into a large glass and garnish with the cherry and orange slice, if desired.