2 Minute Pizza or Pastry Crust
mliss29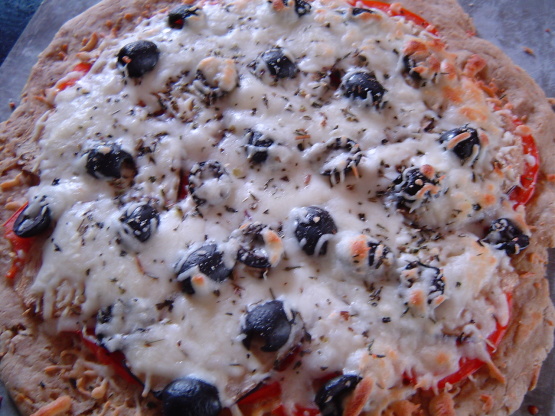 Everyone in France who has ever been to a Tupperware party comes away knowing this recipe. It is so simple it is impossible to ruin.

*April 1, 2008.* I'm not going to star this one yet. We tried this tonight for 3 pizzas. I ended up using about 1.5 cups of flour and a little less than 1/2 c of oil. We had a bitter aftertaste, so I think I will reduce the baking soda next time (and maybe the salt, too.) It was super easy though, and I think it may taste pretty good if the baking soda is reduced. *August 10, 2008.* I tried this again: 1.5 c flour, 1/2 tsp baking soda, 1/2 tsp salt, 1/3 c oil, & 1/2 c hot water. It was pretty good that way. Still a little hint of bitter when eating the crust by itself. I did one crust with 1 c white whole wheat flour and 1/2 c all-purpose flour. It turned out good, too.
Put the ingredients in the specified order into a large bowl or other container with lid that can be sealed.
Close the lid then shake hard from side to side 5 or 6 times, then up and down 5 or 6 6 times. That's it; it's ready! (You can also mix this in your food processor or with a beater, but it's less fun!).
Use your fingers to pat the pastry into a pie plate or pizza pan. Add the rest of your ingredients and bake.
NOTE: For a sweet pastry, replace the oil with melted butter and add 50 grams of sugar to the flour.