Traditional Algerian Baklawa / Baklava - Family Recipe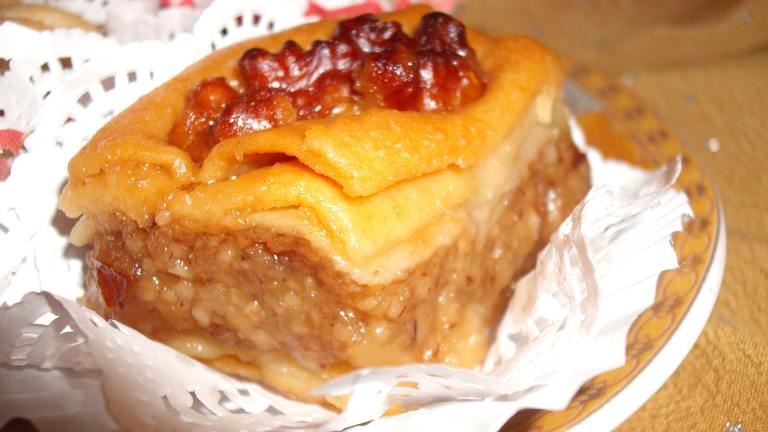 This is the most famous Algerian 'heloua'. You will find it at all the weddings & special occasions. It isn't all that difficult to make but is a bit time consuming. It freezes OK too! To see me making this step by step with lots of photos, go here: http://www.recipezaar.com/bb/viewtopic.zsp?t=230630&start=0
Ready In:

2hrs 10mins

Serves:

Yields:

Units:
ingredients
For the Dough

24

ounces plain flour

310

ml water

200

ml melted ghee mixed with 110ml sunflower oil or 110 ml vegetable oil

1⁄2 teaspoon salt

18

ounces chopped nuts, use almonds, walnuts, pecans, peanuts (your choice)

128

g granulated sugar
1⁄4 teaspoon ground cinnamon

1

teaspoon vanilla sugar

2

teaspoons melted ghee

155

ml orange flower water (mazhar)

For the Syrup

310 -620

ml honey

155 -310

ml orange flower water

Extra

310

ml extra of melted ghee, to brush the pastry with and enough whole nuts to decorate each piece of baklawa. also you'll need p
directions
Take 1 mixing bowl and place the flour & salt in it. Add the ghee/oil mixture & mix, slowly adding the water. Mix well -- until you have a smooth dough, place this on your work surface - well dusted with cornflour.
Split the dough in half. Make the first 1/2 into golf ball sized pieces. Keep the dough covered with a tea towel --.
Take a dough golf ball. If you are comfortable using the pasta machine then just make the ball into a sausage shape and gently roll out with rolling pin to approximately 3-4mm.
Begin passing though pasta machine on thinnest setting. NB : if this is your 1st time you can use the pasta machine on the 2nd to thinnest setting before putting it through on the thinnest.
In you saucepan, melt your ghee on a medium heat. Brush you tray well with ghee using the pastry brush.
Lay you first strip of phyllo pastry vertically in the centre the tray. Brush the pastry with the ghee.
Repeat the dough rolling process. Cover the tray with phyllo, remembering to brush with ghee after each strip. You should be able to do this with 5 strips but don't worry if you use more or less.
Turn the tray round so that you're placing the phyllo strips horizontally over vertical strips. This criss cross is very important so don't forget --.
Continue rolling your pastry and layering the tray. Remember the ghee after each strip. Continue doing this until you have done 5 layers.
Prepare you nut filling. Take your food processor and chop up the nuts of your choice until you have the required amount.
Prepare you nut filling. Take your food processor and chop up the nuts of your choice until you have the required amount.
Place the nuts in the 2nd mixing bowl and add the sugar, cinnamon, vanilla powder and mazhar - enough mazhar to make the filling hold but not so much that it's sloppy.
Place filling in the tray over the pastry, gently smoothing it out - but don't press it.
You now need to repeat the dough rolling, layer making stage all over again until you have 6 layers. You will need to use the 2nd half of the dough by now - just make golf balls again! Don't forget the ghee.
When you've finished the 5th layer you can choose how to do the top layer. I always roll out one large sheet by hand by other stick to the pasta machine as a large sheet of phyllo is a bit tricky to create and handle!
If you want to try rolling out a sheet, remember to COVER the dough, rolling pin, surface, your hands etc in LOADS of cornflour. then roll out the the tray size plus 2cm extra.
Now you need to cut the baklawa and decorate.
Take you knife and cut vertical straight lines all the way to the bottom. (Approx. 2cm apart)then spin the tray round and cut more lines but diagonally to form diamond shapes. You can also make squares or triangles but traditional Algerian baklawa are diamonds.
When you've cut the shapes, push a nut into each shape.
Brush well with the ghee and place in a pre-heated oven at 180 c for 1 hour - 1 hour 10 minutes --.
The baklawa should be golden and now needs it syrup: Warm the honey and mazhar in the saucepan then pour slowly over the baklawa.
Allow to sit for 10 minutes then cut out pieces and place in paper cases - preferably the metallic ones as they hold the syrup better.
Submit a Recipe Correction
RECIPE MADE WITH LOVE BY
"This is the most famous Algerian 'heloua'. You will find it at all the weddings & special occasions. It isn't all that difficult to make but is a bit time consuming. It freezes OK too! To see me making this step by step with lots of photos, go here: http://www.recipezaar.com/bb/viewtopic.zsp?t=230630&start=0"
This is the most famous Algerian 'heloua'. You will find it at all the weddings & special occasions. It isn't all that difficult to make but is a bit time consuming. It freezes OK too! To see me making this step by step with lots of photos, go here: http://www.recipezaar.com/bb/viewtopic.zsp?t=230630&start=0