Pearly Soda Play Clay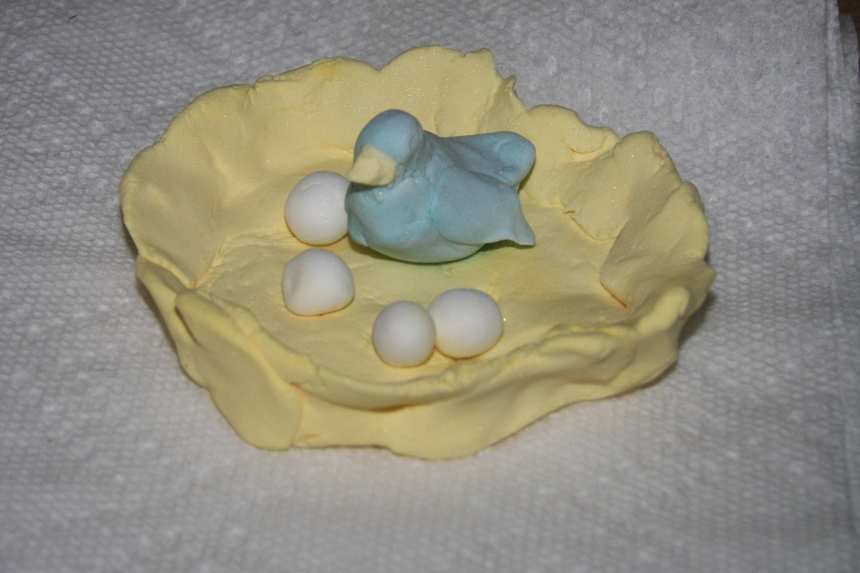 photo by Mom2 T

Ready In:

20mins

Ingredients:

4
directions
Stir the soda and cornstarch together in a saucepan then add water and mix well.
Cook over low heat, stirring frequently for about 5 minutes then cook another 2-5 minutes while stirring constantly until it looks like mashed potatoes.
Remove the pan from the heat, set aside and let cool.
When cool, put on your floured breadboard and knead it, adding more cornstarch as needed until it's a smooth workable clay.
For tinted clay, knead in a few drop of food coloring.
Create clay masterpieces!
Let creations dry overnight.
Store leftover clay airtight in the fridge, it'll stay good for a couple of days.
Questions & Replies

Got a question?
Share it with the community!
Reviews
These are EXCELLENT! I began this at 1:30am tonight, after I was really bored of writing my assignment. This called for a change of mind, and I enjoyed, most thoroughly, each and every step of this awesome recipe. Please note that in step 2, I cooked the mixture for 5 minutes and it was ready - it left the sides of the pan and felt like clay to my touch, plus it resembled mashed potatoes, as you have so aptly put it. For one thing, this clay is really smooth, silky and feels so good in the hands. Trust me, I wanted to stick this on the soles of my feet before going to bed tonight- my feet are really tired and this clay is the softest I've set my hands on till date, but then, I had to make the clay figurines:) I must share with you how creative I got once this clay was made. But before that, I must mention that while preparing the clay dough, I poured a few drops each of chocolate essence, orange essence, strawberry essence and pineapple essence into the dough mixture while on low flame - mmmmmmmm! :) I had my nose halfway into the saucepan. LOL. Anyways, that was just me who wanted my clay to smell nice and I added in my favourite essences:) Then, once the clay was ready, I took it out of the saucepan and allowed it to cool. Once cooled, I divided the clay dough into 2 equal parts. To one part, I added a few drops of green food colouring and to the other, a few drops of pink food colouring. Then, I added additional cornflour(which is what I used instead of cornstarch as a substitute) to each of the coloured doughs' and kneaded them individually. I could knead the green dough without getting tired, but by the time I kneaded the pink dough, I was tired, and I just mixed up the latter with a little of the green dough that remained and some cornflour, and, I got this beautiful colour dough that was a beautiful shade of pink with these small sharp pink dot like things that stared out of it- probably those bits of the mix that had more of th red food colour- these looked like "candy sprinkles"! Then, I tried using my cookie cutters to make shapes, but those attempts were futile. However, determined as I am, I refused to throw away my beautiful creation(yet to be!) into the dustbin. So, I thought of doing something simple yet nice. This is what I did... I pinched off small balls out of the coloured doughs(I got about 7-8 of them in total). Then, I flattened out each ball in the palm of my hands. Next, I took simple things like whole peppercorns, whole cardamom seeds, whole cloves, whole green cardamoms, fenugreek seeds, mustard seeds, cumin seeds and believe it or not, lentils- red, green, yellow, black, brown and white! Gosh, now, my mind started ticking at infinite rpm, and, very diligently and tactfully, I made eyes, a nose, ears, a mouth - as such, a whole face, for each of the balls that I'd pinched off! What started off as timepass to change my mood, ended up as 7 of the most handsome clay faces staring out at me out of a golden rimmed glass plate!! I am really excited with what I've done - it's like, I really got creative at 1:30am and my creativity will bring happiness to many! Oh, and by the time I finished, it was 2:30am! Now, my 7 heads are sitting in my freezer; some smiling back at me, the others with a tale of their own to convey with expressions that'll make you pause and say, "Oh wow"! Can't wait to show them to the rest of the family and my friends' tomorrow and in the days to come. These smell as good as they appear to the naked eye. Thanks so much, Sara, for posting these. I have really enjoyed making these and I bet I'll have to make this alot more often now on for gift giving! Speaking of gift-giving, I'll give these(only if I can bear to part with them, gosh, they are precious already!)as gifts to the little kids that visit me this X'mas. Thanks a bunch for sharing this magnificent non-food good recipe. Though at the end of it, my finger nails were green and pink and my palms must've been similar to those of Leonardo Da Vinci after he painted the Mona Lisa, I still am so contented with what I've done. Thanks a million for this recipe!!!!

 

Too fun! This worked perfectly. I watch my little neighbor boy every morning and wanted to surprise his mom and dad with a hand-print ornament. I had no problem with rolling it out and Karl had no problems pressing his hand in the dough, over and over and over. We had a blast. The ornament appears to be drying well and we will suprise mom and dad in the morning. Thanks so much.

 

This stuff is SO COOL! I made it with my four year old, and we used it to make pirate treasure and some other cool stuff, and let it dry overnight. The texture is awesome, and it actually looks like it has glitter in it! The only thing it lacks is a nice smell (I personally like the smell of the traditional flour recipe), and I was remembering a recipe I found on here and made once that you put unsweetened Koolaid in, and it smells soooo good, so I was thinking next time maybe we'll try combining the 2 recipes. Thanks! :)

 
RECIPE SUBMITTED BY
I'm a stay home mom of two little boys. My husband is a meat and potatoes kinda guy, my little fellas will eat anything, and I'm a vegetarian. One of my favorite things to do is sit and read a cookbook from cover to cover! My favorite cookbooks are ones with pictures of all the dishes.
View Full Profile