Original No Knead Bread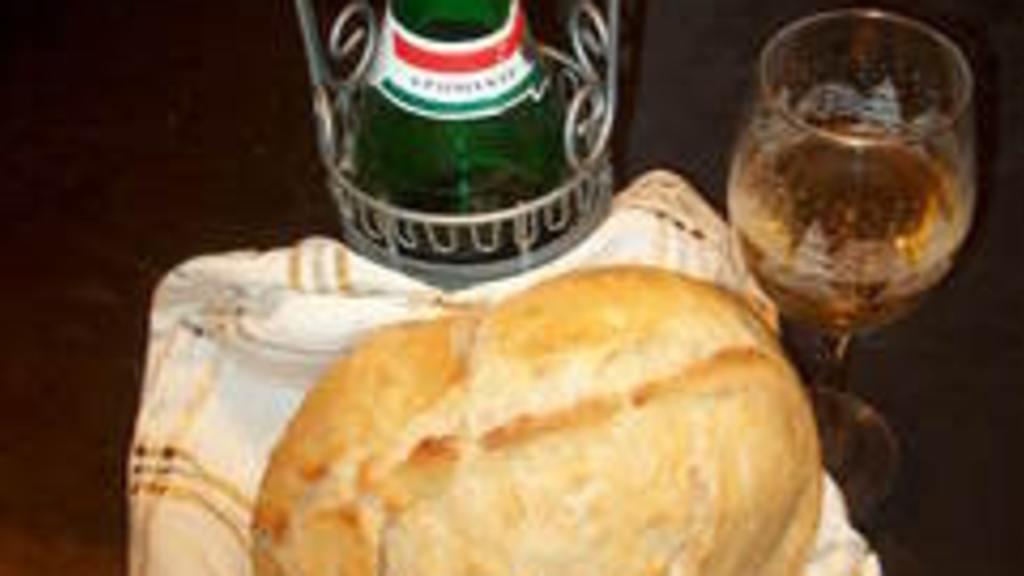 Ready In:

24hrs 50mins

Ingredients:

4
directions
Mix dough: The night before, combine all ingredients in a big bowl with a wooden spoon until the dough just comes together. It will be a shaggy, doughy mess. Cover with plastic wrap and let sit 12-20 hours on counter top.
Shape & preheat: The dough will now be wet, sticky and bubbly. With a wet spatula, dump the dough on a floured surface. Fold ends of dough over a few times with the spatula and nudge it into a ball shape. You can use your hands if you like, just keep your hands wet so that the dough does not stick. Generously dust a cotton towel (not terrycloth) with flour. Set dough seam side down on top of towel. Fold towel over the dough. Let it nap for 2 hours. When you've got about a half hour left, slip your covered pot into the oven and preheat to 450°F.
Bake: Your dough should have doubled in size. Remove pot from oven. Holding towel, dump wobbly dough into pot. Doesn't matter which way it lands. Shake to even dough out. Cover. Bake 30 minutes. Uncover, bake another 15-20 minutes or until the crust is beautifully golden and middle of loaf is 210°F Remove and let cool on wired rack. If not eating right away, you can re-crisp crust in 350°F oven for 10 minutes.
Join The Conversation
This is a marvel. I used Mark Bittman's ingredient amounts that makes a slightly bigger loaf, but the method's the same. I let the dough sit in my oven overnight just so it wouldn't be affected as the house cooled down (it's winter!), 18 hours. I used cornmeal to dust the dough and dish towel, just personal preference. My Dutch oven is 4 1/2 quarts, and I wouldn't want to use anything smaller. After 30 minutes covered at 450 and 20 minutes uncovered the loaf was domed, golden, and had an X across the top. Beautiful. Tasty too.

 

Amazing, This is the easist tastiest bread I have ever made you would never know it was so easy to make. Everyone has raved about it, It was cursty on the outside and soft and yummy on the inside. I will continue making this for a long time, Thank you to the person who came up with this one it is truely the bes.

 

I just posted this recipe in the bread forum. It is originally from Jim Leahy. This is the easiest and most reliable NO knead bread. Made in a 6 qt cast iron enamel covered pot. Baked exactly 30 min covered, removed cover and put back into oven 15 min. It came out a GOLDEN. Rustic loaf of bread that gives you a great pugnant flavor. Delicious! Bread 2 is getting made now and I am adding in cinnamon and raisins so it can be a great toast in the morning.

 
RECIPE SUBMITTED BY
My uncle who I grew up with, was a professional chef so I've always eaten well. Now that I'm grown and have a boyfriend with a hungry mouth to feed I'm starting to learn how to cook.
View Full Profile