One Pound Pizza Dough Abm (Or 1 1/2 Pounds)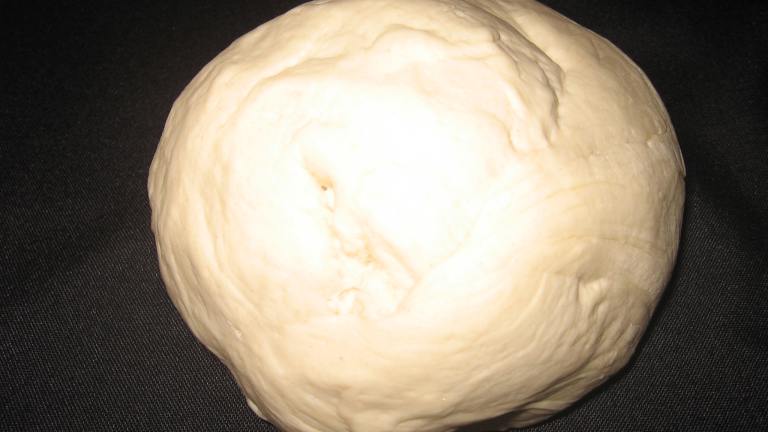 This is based on a recipe from BH&G's Bread Machine Bounty. It's delicious and simple and makes a one pound (or 1 1/2 pounds in parens) pizza dough. Cook time does not include bread machine dough cycle. You may optionally freeze the dough, or half the dough, for later use. To freeze: wrap in plastic wrap and transfer to a freezer bag; seal, label, and freeze for up to 3 months; to thaw, let dough stand at room temperature about 2 1/2 hours or till thawed; you may also thaw overnight in the refrigerator. UPDATE: after reading the first reviewer's comments about the cooking method, I have to confess that while I use this recipe for the dough itself, I've never followed these cooking instructions, nor have I tried to freeze the dough; I've included those instructions because they came with the recipe and I wanted to be thorough in adding this recipe to Zaar. I'm intrigued enough to want to try both cooking methods and freezing the dough and will report back! :)
Ready In:

30mins

Yields:

Units:
directions
Add the first 5 ingredients to bread machine in the order recommended by its manufacturer. Select dough setting.
When cycle is complete, remove dough from machine; if making the 1 1/2 pounder, divide it in half.

TO MAKE A THIN PIZZA:

Grease a 12-inch pan or large baking sheet. Optionally sprinkle with cornmeal.
On a lightly floured surface, roll the dough (for a 1 pounder) or each dough half (for the 1 1/2 pounder) into a 13-inch circle. Transfer to pan or baking sheet. Do not let dough rise.
Bake in a 425°F oven about 12 minutes or till browned.
Top with pizza sauce and toppings of your choice.
Bake 10 to 15 minutes more or till bubbly.

TO MAKE A PAN PIZZA:

Grease a 9x9x2-inch baking pan (or 2 pans if your making both halves of the 1 1/2 pounder); optionally sprinkle with cornmeal.
Roll out the 1 pound dough or each half of the 1 1/2 pounder to fit the bottom of the pan(s), and to reach halfway up the sides of prepared pan(s).
Cover and let rise in a warm place till nearly double (30 to 45 minutes).
Bake in a 375°F oven for 20 to 25 minutes or till lightly browned.
Top with pizza sauce and toppings of your choice.
Bake 15 to 20 minutes more or till bubbly.
Submit a Recipe Correction
RECIPE MADE WITH LOVE BY
"This is based on a recipe from BH&G's Bread Machine Bounty. It's delicious and simple and makes a one pound (or 1 1/2 pounds in parens) pizza dough. Cook time does not include bread machine dough cycle. You may optionally freeze the dough, or half the dough, for later use. To freeze: wrap in plastic wrap and transfer to a freezer bag; seal, label, and freeze for up to 3 months; to thaw, let dough stand at room temperature about 2 1/2 hours or till thawed; you may also thaw overnight in the refrigerator. UPDATE: after reading the first reviewer's comments about the cooking method, I have to confess that while I use this recipe for the dough itself, I've never followed these cooking instructions, nor have I tried to freeze the dough; I've included those instructions because they came with the recipe and I wanted to be thorough in adding this recipe to Zaar. I'm intrigued enough to want to try both cooking methods and freezing the dough and will report back! :)"
This is a great dough to work with. I made 2 batches of the 1# recipe; the first one, I made a round 14" thin-crust and did not pre-bake. It came out excellent after about a 10-minute bake time. The second one I rolled into a rectangle and put it in a 9x13 pan and pre-baked for 5 minutes; topped and baked for another 10. Outstanding pan-pizza! Or sicilian, whatever. I'll def use this again, thanks.

This was a nice, easy dough to put together and to work with. The dough is definitely 5 stars but the cooking method didn't produce the result I expected. Even cutting 2 minutes off of each baking (before toppings and after toppings) didn't stop the crust from being a little too crispy and hard. We really enjoyed the flavor and I would make this again, but I think I'll skip the pre-baking or lower the temp. Thanks for posting this easy recipe!