New York Bakery Style Chinese Cookies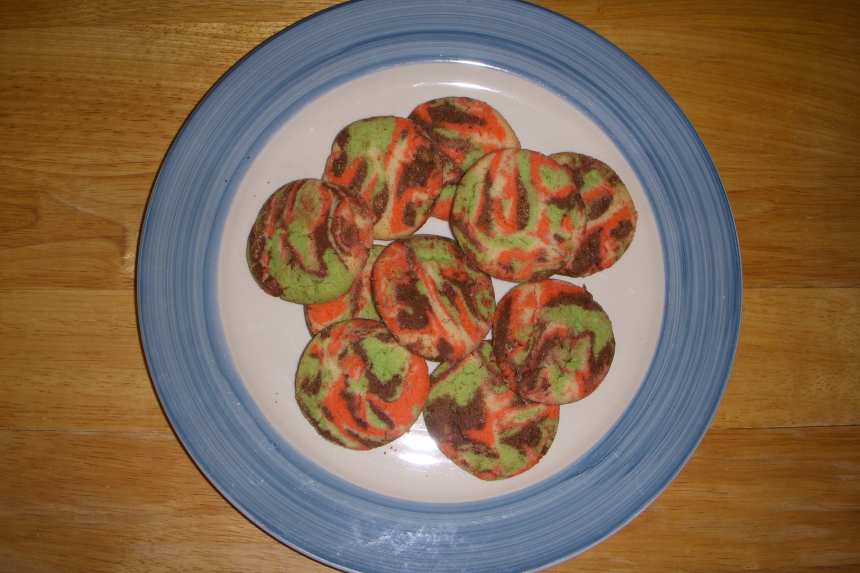 photo by deborahlee555
Ready In:

25mins

Ingredients:

16
directions
In a medium bowl, cream together the sugar and shortening. Stir in the egg and vanilla, then beat until light and fluffy.
Combine the cake flour, baking soda and salt. Stir into the creamed mixture until well-blended. The dough will be stiff, so you may need to use your hands to mix depending on the strength of your mixer.
Roll dough into a log about 15 inches long (or 2 narrower logs, about 10-12 inches each). If you find the dough falling apart too much, knead one teaspoon of milk at a time into the dough until it will hold up to shaping.
If desired, you can coat the log with ground nuts or colored or chocolate sprinkles before chilling and slicing. Beat the egg, egg white or yolk with a tablespoon of water, brush over the log, then roll the log in your choice of coating, pressing them in a bit.
Red and green sprinkles mixed together and used to edge the vanilla cookies is really nice around the holidays. Instructions for marble cookies are given below.
Wrap the dough tightly in plastic wrap or wax paper and refrigerate for about 1/2 hour. If you chill them longer, let the log sit out for a bit before slicing or the dough will be too hard and may crumble.
To bake, preheat oven to 350 degrees. Grease cookie sheets.
Unwrap dough and using a very thin, sharp knife, cut into 1/2 inch slices. This dough is a bit difficult to work with, and may tend to crumble. If it does, let it warm up a bit more before slicing.
Place cookies 1 1/2 inches apart on the prepared cookie sheets. If you prefer, gently adjust the edges of the cookies to make them as close to a circle as possible. Lightly press a chocolate star, walnut half, or any other similar addition in the center of each cookie.
Bake for 10 to 15 minutes, or until just barely browned around the edges and the middle has set. If making the smaller cookies, bake for 9-12 minutes.
Allow cookies to cool on the baking sheets for a few minutes before removing to a cooling rack.
One possible variation is melting some chocolae chips with a small bit of vegetable shortening and then piping a star onto the center of each baked and cooled cookie, then putting them in the refrigerator until the chocolate is set.

TO MAKE MARBLE COOKIES::

Divide the finished dough in half, and add 1/3 to 1/2 cup unsweetened cocoa powder and 1-2 tablespoons of milk to one of the halves and blend well. Roll both flavors out to separate logs, then put one on top of the other and press lightly together. Twist in a few places and and fold the dough over on itself once or twice to marble the dough, but not too much because you want a nice distinct marble with a bit of thin, delicate swirls here and there and look really nice once they're baked. Then roll into one or two logs, chill, slice and bake as directed above.
For Christmas, try separating the dough into 3 or 4 parts, coloring one red, one green, and one chocolate, leaving a 4th section plain, and then marbleing. For Halloween, use orange coloring instead of plain marbled with chocolate dough. These look great with a chocolate star placed or piped onto the center of the cookie.
These cookies are nice and crisp without being hard, and will keep well kept in a covered plastic container or plastic bag.
Questions & Replies

Got a question?
Share it with the community!
Reviews
I have been searching for this recipe forever!! I grew up on Long Island and have very fond memories of bakery cookies on Sundays, these are one of my favorites! I never knew what they were called being that we moved when I was still young. I made the marble version and then dipped half of the cookie in chocolate! They are just how I remember them!! I am so happy to have found this recipe in time for my Christmas cookie baking

 

WOW! I made the marble version using the cake flour sub. and about 1/3 cup cocoa powder. I followed everything as listed and I have to say they were so much better than I expected!! They flew off the cooling racks! I found that when I baked them at the time listed they did come out pretty crispy. Thats my oven, not the fault of the recipe. 9-10 minutes gave me a slightly crispy cookie with some chewiness. Next time, and there will be many, I would like to try to add some almond flavoring to the chocolate portion. Try to reduce baking time by about a minute or so to see what I come out with. I might also like to try to sub. baking chocolate for the cocoa powder and maybe reserve 1/3 of the dough for the chocolate portion. I think the possibilities are endless for whatever version one chooses to make!!! This has replaced the other Chinese Marble Cookie recipe that was provided in response to a request I made for these cookies. Additionally I would like to add that in my opinion you cannot sub. butter for the shortening. Also, be sure to let them cool slightly after removing from the oven. They will crumble if you do not. Thank you so much for sharing your recipe!! Oh, by the way...another soldier will be getting some of these to share!!!

 
RECIPE SUBMITTED BY
I enjoying cooking, baking and experimenting with new, ethnic, and out-of-the-ordinary recipes. I live in Pennsylvania with my crazy cat, Da Fuzz (aka Demoncat), who is spoiled beyond human comprehension.
View Full Profile