Martha Stewart's Baked Eggplant (Aubergine) Parmesan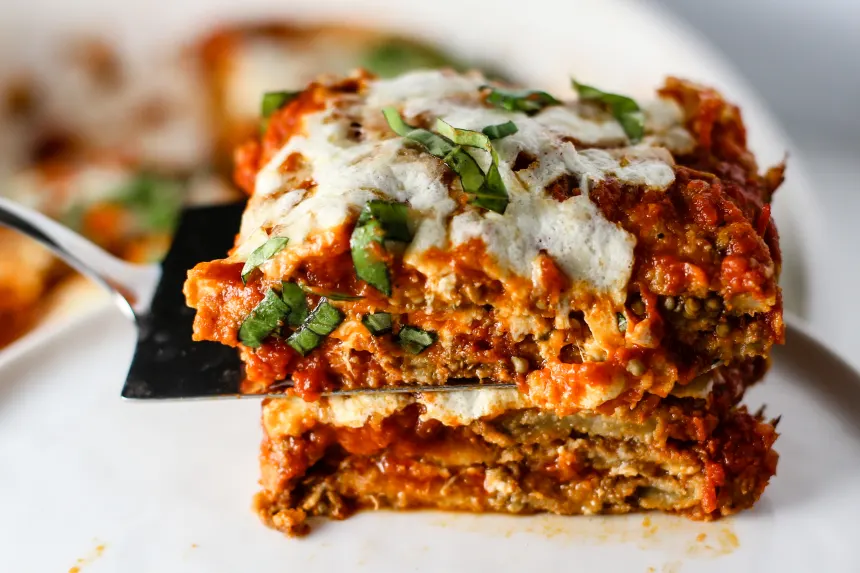 photo by Ashley Cuoco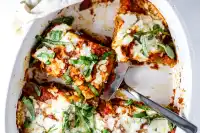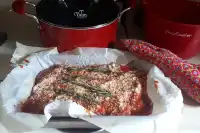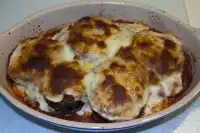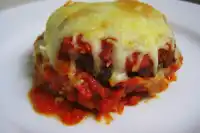 Ready In:

1hr 30mins

Ingredients:

12
directions
Preheat oven to 375°F
Brush 2 baking sheets with oil; set aside.
In a wide, shallow bowl, whisk together eggs and 2 tablespoons water.
In another bowl, combine breadcrumbs, 3/4 cup Parmesan, oregano, and basil; season with salt and pepper.
Dip eggplant slices in egg mixture, letting excess drip off, then dredge in breadcrumb mixture, coating well; place on baking sheets.
Bake until golden brown on bottom, 20 to 25 minutes.
Turn slices; continue baking until browned on other side, 20 to 25 minutes more.
Remove from oven; raise oven heat to 400°F.
Spread 2 cups sauce in a 9-by-13-inch baking dish.
Arrange half the eggplant in dish; cover with 2 cups sauce, then 1/2 cup mozzarella.
Repeat with remaining eggplant, sauce, and mozzarella; sprinkle with remaining 2 tablespoons Parmesan.
Bake until sauce is bubbling and cheese is melted, 15 to 20 minutes.
Let stand 5 minutes before serving.
Note: To make Chunky Tomato Sauce: In a medium saucepan, heat 1 tablespoon olive oil over medium heat.
Cook 1 small diced onion and 2 minced garlic cloves, stirring frequently, until translucent, 2 to 4 minutes.
Crush 2 cans whole tomatoes (28 ounces each) into pan; add 1/4 teaspoon dried oregano.
Simmer, stirring occasionally, until thickened, 15 minutes.
Season with salt and pepper.
Questions & Replies

Has anyone tried using panko rather than the breadcrumbs? I'm wondering if that would make for some crunch in the top layer or would they just soak up the sauce and get lost. What about seasoned breadcrumbs? Some of my Italian friends would only make this with seasoned breadcrumbs or make their own.

 
Reviews
Okay, but a very Americanized dish. Made it for my DD's birthday and she ate it and seemed to enjoy it, but my DH and I thought it was boring (a lot of work for boring too in that I made my own sauce and followed the directions to a T), and nothing like the eggplant parm my Italian neighbor makes. We weren't expecting total authenticity - especially with the eggplant being baked - but this was as my DH put it "very safe." I've had this trouble with M. Stewart's recipes before, so I think I'll avoid her in the future.

 

I have been making a variation of this recipe for years, using zucchini instead of eggplant. I line the baking sheets with parchment paper, and spray with EVOO spray putting in the oven. Also add crumbled meatballs and/or Italian sausage to the sauce. SO much easier than frying everything, and isn't saturated with the taste of the cooking oil. Makes cleanup easy too!

 

I have to admit, I'm not usually a Martha Stewart fan, but this had great reviews so I gave it a shot. This is probably the best eggplant parmesan recipe I've tried yet! My husband and 21 year-old son are not picky at all, but eggplant is usually not the first thing they order from the menu - it is for me! So I was thrilled when they both raved about this dish! We all love that the eggplant is not fried but still has that classic taste. I made the sauce as directed in the recipe, but it was just a little shy of what was needed to complete the dish so I just stirred in a 10 oz. jar of classic pizza sauce. I also used an extra egg and breadcrumbs as per other reviewers advice. (I think I had a little over 2.5 lbs. of eggplant, so this could have made the difference.) Tasted great and leftovers (which were few!) were even better the next day! This is definitely my new, favorite recipe for eggplant!

 

This was a great recipe! I only used 1 eggplant but it was a big one. I made the sauce from the directions provided but also added a jar of Classico. Baking the eggplant was a terrific option - I tasted the eggplant after baking it and it was so delicious! I would have loved eating it even without the sauce the cheese!

 
Tweaks
Everyone I know loves eggplant parmesan, but usually it's so high in fat and calories it has to be a rare treat. This recipe can be lower in both by using low fat cheeses and spray olive oil, and it's baked instead of fried.<br/>I make my own sauce using my own home grown tomatoes and basil. It could not be better! And I make and freeze small portions for frequent indulgence.

 

I tried this recipe after never preparing eggplant before. My family LOVED it--even my three yr old! I used italian seasoned bread crumbs instead of plain and the spices. I also used colby jack cheese on top instead of just mozz. Instead of the 13 by 9 pan I halved the recipe and used a 9 by 9 and it worked out well for a family of four. My husband can't wait until I make it again.

 
RECIPE SUBMITTED BY
An Indian living in the US for the past couple of years. A full time graduate student. Love to cook. Cook lunch and dinner every day but really love it when we have guests for lunch or dinner. When I have guests, I allow myself to prepare a 3 or four course meal , not otherwise :).
View Full Profile