Lemon Squares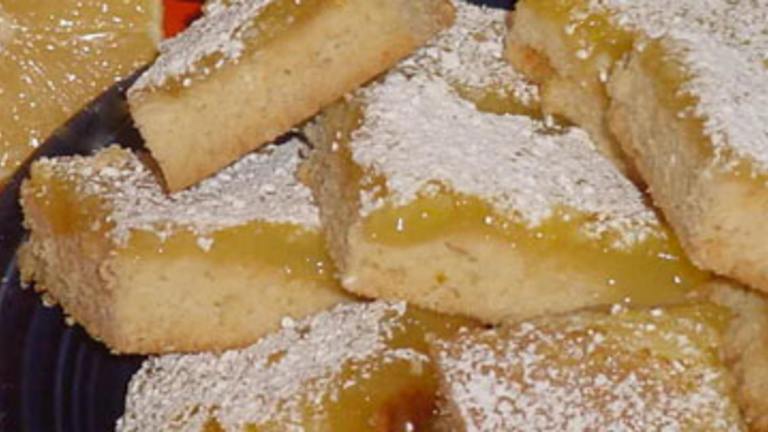 Ready In:

40mins

Serves:

Units:
directions
*NOTE:Original recipe used 1 T butter, softened.
**NOTE:Original recipe used 1 T canola oil.
***NOTE:Original recipe used 2 lg egg whites, divided.
Preheat oven to 350 deg F.
Lightly coat an 8 x 12" or 7 x 11" baking pan with cooking spray.
In small bowl, stir together 1 C flour, 1/4 tsp baking powder, baking soda and salt.
In mixing bowl, beat together 1/2 C sugar, lowfat margarine.
(butter), oil, egg white and lemon rind (zest) with electric mixer until smooth.
Stir in dry ingredients until blended and crumbly.
Note: Mine never did get crumbly-- it was a batter.
Press dough in an even layer in baking pan.
Note: I just poured it.
into the baking pan.
Bake the crust 15- 20 min or until it is puffed all.
over and browned around the edges.
Meanwhile, in bowl, combine the remaining 3/4 C sugar, 2 tsp lemon zest, lemon juice, egg, the flour and 1/4 tsp baking powder; whisk until smooth.
Pour evenly over hot crust and bake about 14- 20 min longer, or until set.
Let cool completely in pan on a wire rack.
Cut into squares and dust with.
confectioner's sugar.
Note: I omitted the confectioners sugar.
Submit a Recipe Correction
I tagged these because of the lovely photo that Toni had made of this dish; however, I failed to read her review. I looked at the review done by Amis instead. I had some of the same problems that Toni experienced. The crust did not pour. I had to pat it in place and then it pulled away from the sides of the pan which meant when I poured the lemon filling on top some of it ran under the crust. Next time I will be sure and read all the reviews. I hate to rate low but this did not work for me.

Judging from the other reviews, I feel like I missed something here. The information on the ingredients and the amounts was a little confusing and might be improved by splitting the list according to what figures into crust vs. the curd. Do think I got that straight after a couple of reads. My cookie dough was sticky but too thick to be poured so I kind of stretched and smoothed it into the pan. I wish I had taken more care as the dough had no give whatsoever and the final cookie had peeks and valleys. The lemon was absolutely delicious but because of the uneveness of the dough some parts were thinly covered while others had a lovely tart layer. (Guess which bars I went after.) I am gonna try this again - maybe playing with the dough. JQ - please don't throw any cooking utensils at me.