KFC Coleslaw (Copycat)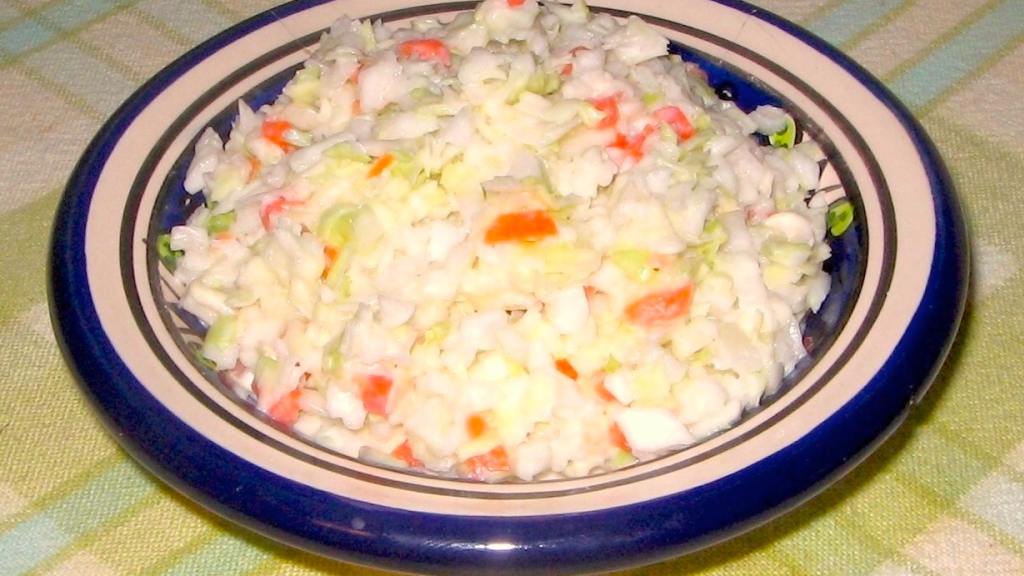 Ready In:

4hrs 20mins

Ingredients:

12
directions
ADD the following DRESSING ingredients into a large bowl: 1/2 cup real mayonnaise, 1/2 cup milk, 1/3 cup sugar, 1/4 cup Miracle Whip, 2 teaspoons cider vinegar, 2 teaspoons pineapple juice, 1 teaspoon lemon juice, 1/4 teaspoon coriander powder, 1/4 teaspoon salt (or to taste).
CUT 1-2 small wedges of white onion, each to the size of a garlic clove; PLACE onion wedge into garlic press; SQUEEZE onion pulp and juice to measure 1 teaspoon; ADD to other ingredients in bowl.
WHISK together DRESSING ingredients until smooth, creamy and opalescent, using a wire whisk.
CHOP COLESLAW ingredients to specifications, using a food processor if desired (4 cups cabbage should be cut to approximately 1/4 inch pieces; 1/3 cup carrots should be cut to approximately 1/8 inch thick x 1/4 inch long pieces.
ADD prepped COLESLAW ingredients into large bowl containing DRESSING.
BLEND all ingredients together until combined.
COVER and refrigerate at 4 hours to overnight (I like it best the second day).
COMBINE coleslaw well before serving.
SERVE with your favorite dish (or by itself as I often do).
ENJOY!
Join The Conversation
I am reviewing this recipe on behalf of my friend who is not a member of Food.com. Kentucky Fried Chicken's coleslaw is the ONLY coleslaw that she and her husband will eat. Upon finding this out, I emailed a link of your KFC Coleslaw (Copycat) recipe to her. She was thrilled to have the recipe for her favorite coleslaw, made it for the Fourth of July, and absolutely loved its delicious flavor. I would make this recipe, but my mom is partial to her mom's (my grandma's) recipe for Dolly Parton Coleslaw. Thank you, Spice Guru, for making my friend's Independence Day a little brighter!