Hmong Egg Rolls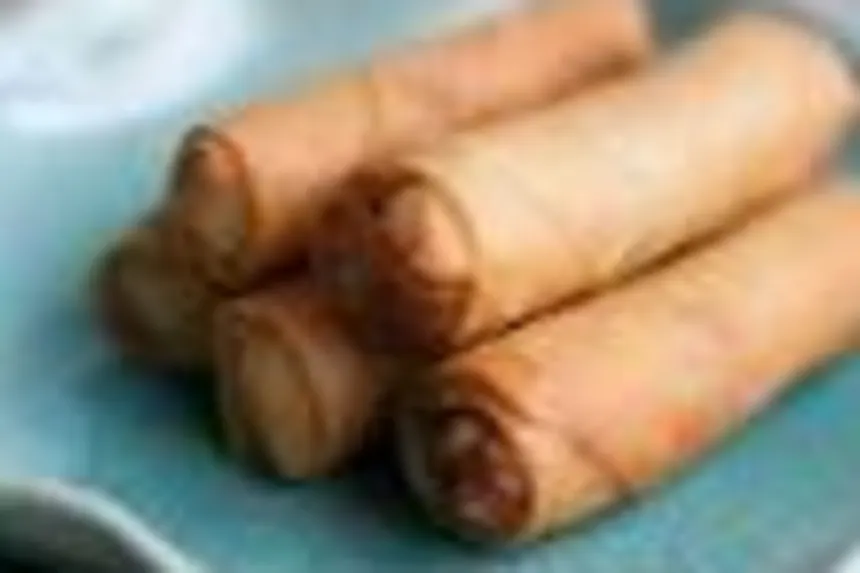 photo by Lia M.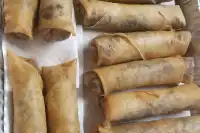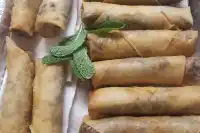 Ready In:

40mins

Ingredients:

21
directions
Soak noodles in very hot water for 10 minutes.
Drain.
Rinse with cold water.
Cut into 3-inch lengths; set aside.
Chop green and yellow onions and cilantro (also, cabbage and carrots if not going with the packaged coleslaw).
Mix all ingredients together.
Heat oil (med high heat).
Peel rice skin wraps apart, put about 1/2 cup mix on egg roll wrap.
Roll it up.
Seal with egg.
Cook for about 10 minutes.
Questions & Replies

Reviews
My mom's version is more simple but taste great. All the seasoning you need is salt and pepper. You take the basic ingredients listed here: copped cabbage, shredded carrots, chopped yellow onion, cellophane noodles and pork, mix it up seasoned with salt and pepper, crack in the eggs and that's it. The eggs will act as a binder for the filling as well as making the filling a little wetter so you want the filling to be as dry as possible before hand. If the mixture is too wet, your wrappers will start to crack before it's cooked resulting in filling spilling out into the cooking oil. The secret to a "dry" filling is in how you prepare the cellophane noodles. You need to soak them in very hot water like the recipe says, but only for 5 mins and after draining the water out, DO NOT FLUSH WITH COLD WATER. The noodles will continue to soak up whatever water's left at the bottom of the bowl and you will have a dryer base to work with. Also, if the raw pork mix gives you the ick factor, you can always cook the pork ahead of time and mix it in with the rest of the ingredients.

 

I've been searching for an authentic Hmong eggroll recipe and this one hits that. Totally loved the original recipe here.. surprisingly, it isn't too salty, its just right. I think, if you're a meat lover, go ahead and use 2 lbs of pork, but then you'd have to add a little bit more salt/seasonings to compensate. <br/><br/>Here's a tip on the The rice paper sheets, if you're not familiar/NEWB, you shouldn't mistake it for the clear rice paper sheets that are used particularly for spring rolls. The eggroll wraps are in the frozen aisle and most of the time the packages are listed as rice paper sheets (at oriental stores).<br/><br/>I didn't make the sauce, so don't know how that one goes.

 

The eggrolls turned out amazing. I had to use half of the noodles and veggie mixture because it made too much. I was able to make about 35 eggrolls instead of 25. I also used 2 pounds the pork instead of 1.5 pounds. I did not have to use dipping sauce for the eggrolls because they already had enough seasoning.

 

Making these egg rolls for the second time tonight with Pancit Sotanghon as the main dish. I really love these egg rolls; the first time I had them was when my friend in middle school brought some in to share. I've also had them at the local farmers market here, but the ones from my classmate's mum were unforgettable, and these taste just like them! Thank you so much for sharing this recipe!

 
Tweaks
I added black fungus mushroom that you can find at the asian market and soaked it over night. I also added one egg into the ground pork meat mixture to make it have a sticky texture. I chopped the noodles and veggies into smaller than 3 inch pieces that the recipe instructed. Lastly, I used a pasta spoon to mix the meat more evenly throughout the vegetable mixture.

 
RECIPE SUBMITTED BY
I live in Wisconsin, But I'm a Dallas Cowboy fan.I have 4 children 18-7. I'm a machinist at Trane Co. I love to eat Hmong, Thai and Vietnamese food I could live on it.Yummy....
View Full Profile