Awesome Egg Rolls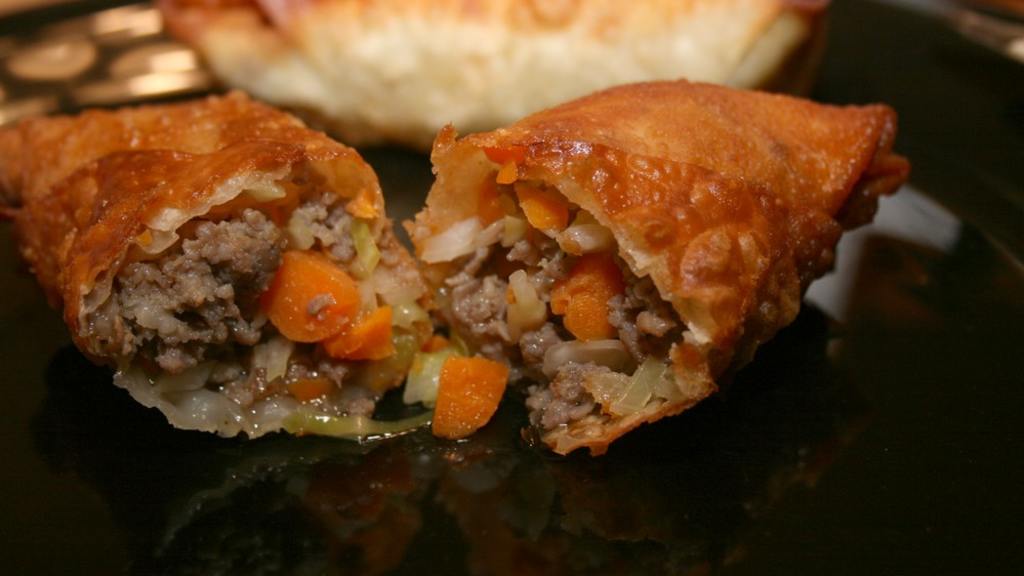 Ready In:

45mins

Ingredients:

9

Serves:

10-12
directions
Fry the ground beef with the salt and pepper and garlic powder until the meat is completely browned.
Make sure to add a lot of the salt and pepper and garlic powder.
This needs to have a strong flavor because you'll be frying it with other ingredients.
Don't put so much in that you can't eat it, but you want to really taste it.
Once you are done getting the flavor right, get a LARGE bowl and put the shredded cabbage and carrots in it and then add the ground beef on top.
Mix together completely and let sit for about 15 minutes.
I do that so the mixture will soften and I can roll them more easily.
Check the mixture after it sits to make sure the flavor is still there and really stands out.
If not, add more of the salt and pepper and garlic powder.
It's really up to your taste buds, but this is what I've done and I get RAVE reviews.
Heat up your oil for frying in a deep fryer.
Follow the manufacturer's instructions for how much oil to add, but always make sure you don't fill it to the top so you don't get hurt.
I usually only fill about half of the fryer.
Crack an egg into a small bowl to make a wash for sealing the egg roll wraps.
Take a wrap and put about 1-2 teaspoons of the meat mixture onto the wrap.
Wrap the roll as shown on the package, remembering to seal with the egg wash.
I try to wrap my rolls tightly, but I don't always do that so well.
Once you are done wrapping, place the egg rolls carefully into the oil about 2-3 at a time.
Cook them until they are blond in color.
Don't let them get too dark.
Take them out and let drain on paper towels.
You're done! I serve mine with Grey Poupon for dipping. yummy!
Others might enjoy soy sauce! These also freeze very well, that is of course, if you have any left! I make a bunch for myself and have them for lunch.
Just pop them in the microwave for about 1 minute, and you're done.
Join The Conversation
These are BOMB-DIGGITY!!!! My ex mother in law who was Japanese used to make homemade egg rolls with ground beef but I couldn't remember her recipe so searching online found this recipe that I could use as a guideline along with what I could remember from her. I added green onions, shredded ginger root, and broccoli cut into small pieces (tops only; dime-sized) with the cabbage. Opted to use the angel hair prepared cabbage and shredded my own carrots since they were not cooked prior to frying.

 

Added soy sauce to meat mixture while cooking for seasoning and extra flavor. Made some using tiny frozen shrimp instead of ground beef. Adding fresh sliced mushrooms was good. Also remembered that she liked to use Napa/Chinese cabbage instead of traditional head cabbage. The leafier texture is nice. Served with soy sauce and teriyaki for dipping. Chose to fry in corn oil vs. vegetable oil. Found that draining the meat mix prior to frying egg rolls kept the wraps crispier.