Dump Cake the Loretta Lynn Dump Cake for Ray Charles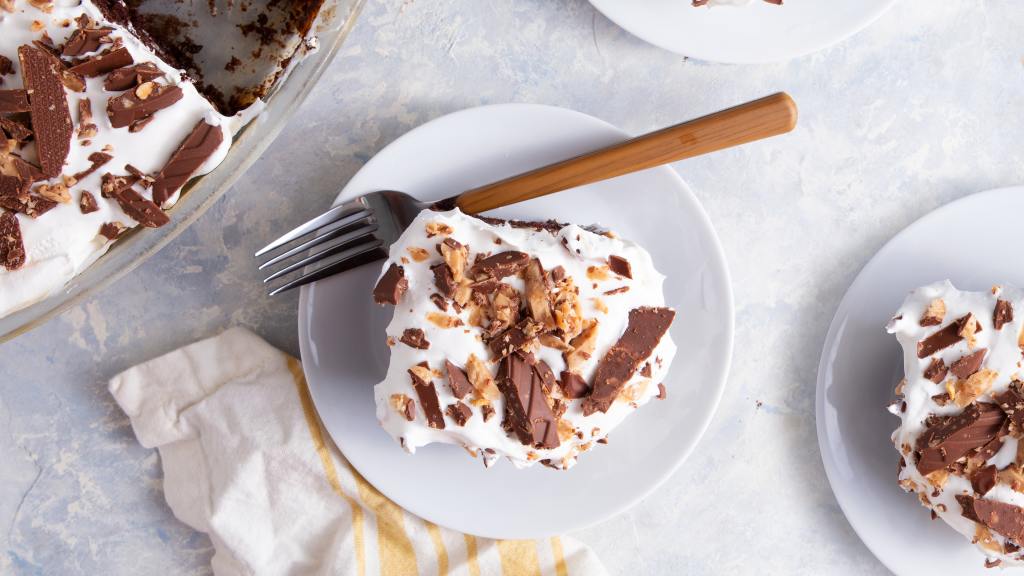 Ready In:

1hr 15mins

Ingredients:

5
ingredients
1

(18 1/4 ounce) box chocolate cake mix (just so long as it isn't one of the extra-moist varieties)

1

(12 ounce) can condensed milk

1

(8 ounce) jar caramel sauce

1

(8 ounce) container Cool Whip

6

Nestle Crunch bars
directions
Try not to think about it. There's a reason people in this country are addicted to fatty foods that are bad for you, and this cake is going to appeal to all of those urges in you and more. Best cake in the world, remember? It's worth a shot.Preheat oven to 350. Follow the instructions on the cake mix box for baking.
So, make your cake in the usual way, and when it's hot from the oven, use the cylindrical end of a large wooden spoon to poke holes in the cake.
Oh, I should mention that I'd recommend the cake be baked in a 9x12 glass pan.
And, the holes should be poked in neat columns and rows, let's say about an inch and a half apart. Maybe an inch. Maybe two inches. Maybe an inch and a half.
Holes poked? Pour the can of condensed milk all over the cake.
Pour the jar of caramel sauce all over the cake.Spread a liberal layer of Cool Whip all over the cake.
While your cake was baking, you should have pounded the Nestlé Crunch bars into half-inch or less (or maybe a bit more) pieces. Now sprinkle those on top.
DON'T EAT THE CAKE!
If you must, if you really must, go ahead and have some, but it's not fair to judge your creation at this stage. It has not become the best cake in the world yet. Here, it's just a recipe for instant diabetic keelover.
Put the cake in the refrigerator.
Now you must leave that cake in there for as long as you can stand. Ideally, this means overnight. At least. But, if you're pressed for a choc fix, at least let it get nice and cold.
But, again, it really is a "this gets amazing after a day in the fridge" recipe.
And that's it. That is the very best cake in the world. Like so many precious artifacts, one would not expect to find such a powerful recipe in the hands of a kitchen simpleton such as myself, but I have come forth with the treasure.
Now the world is forever changed. Or, if not the world, then your weekend, if you're smart (and want to be really, really popular with the rest of your household).
Eat! Enjoy!